News
2015-08-31
Japan rallies from record eight-run deficit to win Little League World Series
AUG 31, 2015 The Japan Times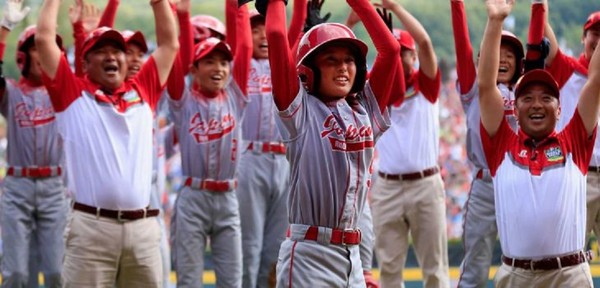 SOUTH WILLIAMSPORT, PENNSYLVANIA With more than 42,000 fans cheering against them, Japans players found themselves trailing by eight runs in the first inning of the Little League World Series championship game against U.S. representative Lewisberry, Pennsylvania.

That brought out manager Junji Hidakas inner Yogi Berra and sparked a record rally that saw Tokyos Kitasuna Little League pound out 22 hits in an 18-11 comeback victory in a battle of undefeated teams.

I told the players it doesnt end until it ends, Hidaka said through a translator.

Tokyo responded with seven runs in the second, four in the third inning and five in the sixth.

Masafuji Nishijima had four hits and six RBIs, and Shingo Tomita hit two of Tokyos five home runs.

Tokyos third pitcher, Nobuyuki Kawashima, held Lewisberry in check for most of the game, giving up just one run and two hits over five innings.

Today my fastball wasnt going fast enough, said the 12-year-old, who lived in California for four years and speaks fluent English. I knew my breaking ball had to be on the corner, down low, where the batters cant reach too far or it just gets them off-balance.

It was the 10th title for Japan, second behind Taiwans record 17. Its the third title for the Kitasuna Little League team, which also took home championship pennants in 2001 and 2012.

Tokyo had given up a total of 10 runs in its other tournament games, but Lewisberry scored 10 times and sent 14 batters to the plate in the bottom of the first after falling behind 2-0.

Lewisberry knocked out starting pitcher Daiki Fukuyama before an out was recorded in the first. Dylan Rodenhaber made his first hit of the tournament count, hitting the ball over the right-field fence for a grand slam. Jaden Henline added a three-run homer, a shot that went deep into the shrubbery in straightaway center field.

The Red Land Little League team, which draws players from several central Pennsylvania towns around Lewisberry, scored three more times, sending what was essentially a hometown crowd of more than 42,000 into a frenzy.

Fans of the Lewisberry team helped set a tournament attendance record of 499,964, well over the previous mark of 414,905 set in 2011 when a team from Keystone, Pennsylvania, was in the tournament.

Tokyo responded after their managers pep talk.

Yugo Aoki hit a three-run homer in the top of the second that was followed by solo shots from twin brothers Kengo and Shingo Tomita.

Fukuyama added a two-run double up the middle to bring the Japanese back within a run.

Shingo Tomita tied it at 10 in the third with a solo home run to left field. Three batters later, Nishijima hit a three-run homer to make it 13-10.

They just put the bat on the ball, Lewisberry manager Tom Peifer said. They hit pitches Ive never seen kids, especially 12-year-olds, hit.

Lewisberry got one back in the bottom of the third. Braden Kolmansberger hit the ball over the head of Japans center fielder and eventually scored when third baseman Koki Jo couldnt handle a slow roller by Henline.

The teams broke the previous Little League record of 23 combined runs in a championship game a mark that had stood since 1947. Lewisberrys 10-run first inning also was a record, as was the teams combined 30 hits. The eight-run deficit was the largest overcome in any Little League World Series contest.

Tokyo had not won a game by more than two runs all tournament and had won its last two in the teams final at-bat.

Japan used the final inning of the championship game to add five insurance runs, highlighted by a triple from Kengo Tomita that scored Aoki and opened the floodgates.

Pennsylvania came in with four Little League World Series titles, but the last was in 1960, when a team from Levittown accomplished that feat. Lewisberry is the first in-state team to win the U.S. title since a team from Shippensburg did it in 1990.

There are a lot of tears, even from myself, to know that the run is over said Peifer. But we quickly told them, When we leave here, lets get the tears out, because there is nothing to be sad about.

---