News
2016-02-26
Baseball Community Mourns over the Death of Akira NAMBARA of All Japan University Baseball Federation
Baseball Federation of Asia and USA Baseball join to pay tribute after Nambara passes away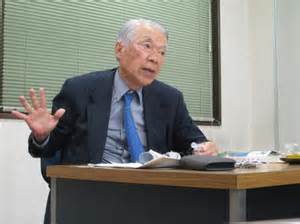 Tokyo Akira Nambara, Deputy Chairman of All Japan University Federation (JUBF) has died of adenocarcinoma of the lung at age 82 in Tokyo on February 15, 2016. To honor his living will, the funeral service was limited to family members
In 1956, Nambara captained the baseball club of the University of Tokyo (UOT), a member of the prestigious Tokyo Big-6 League. After graduating from the University of Tokyo in 1958, he worked with the Bank of Japan (BOJ) for 36 years followed by the Export-Import Bank of Japan for 5 years before joining Dentsu Inc., an international advertising and public relations company in Japan. During his tenure of BOJ, he studied at Yale University on Fulbright scholarship, seconded to the Asia Development Bank in Philippines and was assigned to major BOJ offices including New York.
As a very passionate and capable leader, Nambara started to serve on the board of JUBF without pay after his retirement from Dentsu Inc. in 1999 and was subsequently appointed Deputy Chairman in 2004.
Eiji Hatta, President of Japan Student Baseball Association, praised Nambaras long dedication to student baseball and pledged that he and his colleagues will follow the footsteps of Nambara by putting baseball as an integral part of school education to help form fine character of student athletes.
We join our friends in the All Japan University Federation in mourning the loss of Akira Nambara, a great baseball man and human being, said Paul Seiler, Executive Director/CEO of USA Baseball. His love of our game was unmatched, and his legacy in baseball will live on for years. His family and friends are in our good thoughts and prayers at this difficult time.

Tom C. H. Peng, President of Baseball Federation of Asia (BFA) said On behalf of all our members of BFA, we offer our heartfelt condolences to the families and loved ones of Akira Nambara, a great man of our sport, indicated. Mr. Nambaras contribution to Japanese baseball will be remembered.

---