News
2017-10-05
Ex-BayStars pitcher aims to shine as scientist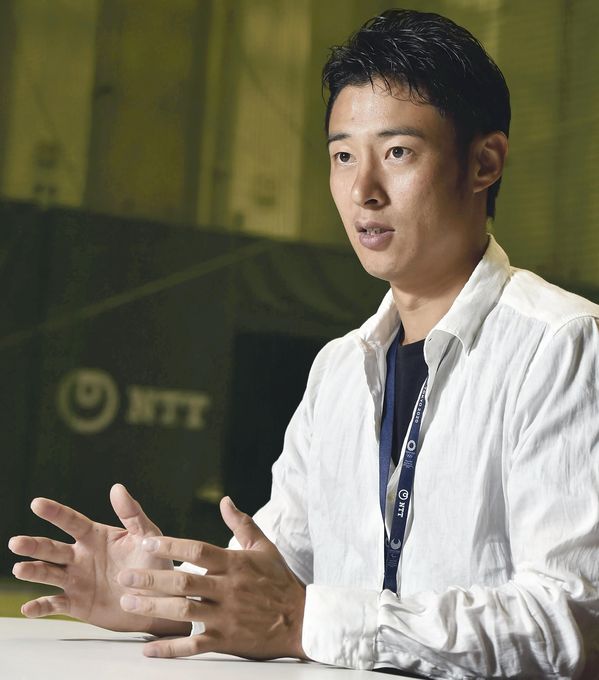 Takehiro Fukuda

?October 03, 2017?By Tatsuya Otsuki / Yomiuri Shimbun Senior Writer?
Takehiro Fukuda, 34, might have made detours on the path to his current job, which links professional baseball to science. Even before he reached the pro ranks as a pitcher at 26, he faced many turning points.
It was academics, including sports science, that helped him continue the pursuit of his diamond dream. His pro career as a pitcher ended after just four years, but he was hired as a research specialist for NTT Corp.s Sports Brain Science Project in January.
And now, Fukuda is working in the world of baseball again this time as a researcher.
In autumn 2009, Fukuda was selected by the then Yokohama BayStars (now the Yokohama DeNA BayStars) as their fifth pick in the Nippon Professional Baseball annual draft. At the press conference introducing the teams newly drafted players, Fukuda likened his unique journey to the popular manga Vagabond, saying, Please call me a vagabond in Yokohama.
As a student at Otani High School in Kyoto, his passion was to play in the national high school tournaments held at Koshien Stadium, but that dream did not come to fruition. He spent a year preparing to enter Kochi University, and played baseball after enrolling in a six-school league in the Shikoku region while he studied sports science.
He put up notable results in the league, but it did not open the door to his dream of becoming a pro.
Life-changing encounter
As a graduate student at Kyoto University, his baseball dream was rekindled. He learned biomechanics and motor control from Shingo Oda, now a professor at Kansai Universitys Faculty of Health and Well-being.
Said Fukuda: When I was a senior at Kochi University, I got to know Oda, who worked at Kyoto University at that time, through a book that I read. I dropped in on him without an appointment, but he kindly told me that he enjoyed meeting people like me because he feels their enthusiasm.
I had gotten my pitching velocity up to 140 kph, so I made up my mind to be a researcher and utilize what I had achieved in the past. At graduate school, Oda taught me how to better control the movement of my body and I studied various topics together with other graduate students. Through that process, my baseball skills improved something I had not anticipated.

He had continued playing baseball while at graduate school on a club team, so he decided to give going pro one more shot, consulting Oda and others before making the final decision.
After taking leave from school, Fukuda joined the Kagawa Olive Guyners of the independent Shikoku Island League Plus.
I had decided to play in the league for up to two years, he said. I think an independent league is a really good place; its a place where some realize their dreams and others give up on them. It was my last opportunity, so I practiced harder than anybody else and did whatever I could. I believe thats why I was able to become a pro.
Fukuda began playing baseball when he was a second-grade elementary school student. His father took him to a school one day, and members of a youth baseball team happened to be there.
I was lucky in that my father was a university professor, he said. Since childhood, he taught me about psychology and philosophy, and it became a habit for me to consider various aspects. For instance, he quizzed me using rock, paper, scissors: Id get 10 if I won with rock, 30 with scissors and 100 with paper, but I had to pay 50 if I lost. He asked me which I would choose. Now I feel these experiences were a blessing.
Realizing limits as a pro
Fukuda made his NPB debut in a game against the Hanshin Tigers at Yokohama Stadium on Aug. 19, 2010.
Said Fukuda: I was so nervous at the time, but I was also so happy. The first batter hit a grounder to third. The third baseman was [Shuichi] Murata, who I had seen on TV many times.
Murata took the grounder and threw it to first base. Watching that scene, I was hit by the thought that I was in the world of professional baseball. That is the moment I remember most clearly, Fukuda said.
Murata now belongs to the Yomiuri Giants.
During his four-year career with the BayStars, he appeared in 25 games on the first team, but ended up without a decision. Fortune no longer smiled on him he achieved good results as a starter on the farm team, but he was made a reliever on the first team and failed to put together tangible numbers.
I wanted to play longer, but I couldnt, Fukuda said. It was probably because the [usual] professional baseball player is like a mountain that is one size larger than me. The height of my mountain might have equaled that of other players, but I think other players mountains were bulkier than mine.
Professional players move smoothly without any wasted motion. They dont use their physical power desperately, they only use their muscles as needed. I learned this at Kyoto University as knowledge, but professional players learn this from firsthand experience.
After retiring, he studied sports science at a Waseda University graduate school while working for an accounting firm.
The NTT Sports Brain Science Project was established in January, and he was appointed to his current post that same month. Located in Atsugi, Kanagawa Prefecture, this research institute aims to enhance athletic performance. Its research includes how to better control the body and how to skillfully manage ones mental approach.
Fukudas current area of study is pitching-control skills.
There is no other researcher who has experience in the world of professional baseball, he said. Im interested in the difference between people who were successful as professional players and those who werent. In pro baseball, pitchers dont defeat hitters because they throw fast pitches, and hitters batting averages are not high because the speed of their bat is fast.
Baseball is a matchup between human beings. For instance, pitchers try to make their release point difficult to see or make it hard for hitters to get the bat on the ball. If a player like me, who was let go after only four years, can learn such skills early on perhaps in the first year of their professional career they might be able to remain in pro ball for 10 or 15 years. Thats what I want to study. Thats now my primary goal.

---