News
2015-08-10
High Mark Given to Softball Japan Cup
by WBSC President

World #2 USA defeated ruling champion Japan at
2015 International Women's Softball Championship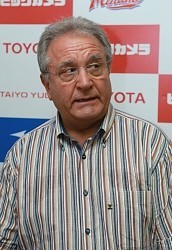 WBSC President Fraccari in Ogaki on August 9
(Approximate translation) Ogaki, Gifu - World?Baseball Softball Confederation President Fraccari gave an exclusive interview to The Mainichi on August 9.
Recognizing the timely staging of 2015 Japan Cup for inclusion of Softball/Baseball in the Tokyo 2020 Olympics, President Fraccari appreciated the event by saying: Top teams around the world assembled in this championship. The excitement of fans proves popularity of Softball in Japan. It will be good if this kind of tournament is repeated every year.
President Fraccari was visiting Japan to attend the hearing by the Organizing Committee to the 8 candidate IFs. He said that he proposed 8 teams each by Baseball/Softball with the total athletes of about 300. President Fraccari stressed the significance of inclusion of both sports and commented: Japanese fans want to see the games of high standard. Existing facilities ensures low expenditures while high revenue can be expected by ticket sales etc.
In the meantime, WBSC have been studying 7 inning to shorten the length of games. However, President Fraccari revealed that their proposal did not include it and indicated that they will study means to shorten the duration of the games by saying: What is important is not the number of innings
Regarding participation of MLB players, he disclosed that WBSC is asking for understanding of IOC to the effect that Since baseball is a global sport. USA is one of them and should not to be singled out.

---