News
2015-08-27
Watch Free Live-Stream of the 2015 WBSC U-18 Baseball World Cup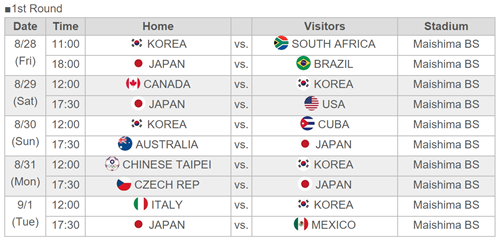 OSAKA, Japan – The XXVII WBSC U-18 Baseball World Cup 2015 is set to open to audiences worldwide on Friday, 28 August.
The WBSC U-18 Baseball World Cup will unite the best young players (aged 16-18) in their respective nations for fifty games from 28 August to 6 September in Osaka, Japan.
Thirty-six of the fifty U-18 world championship contests, including twenty-one of the thirty Opening Round games, will be live-streamed free via the WBSC's two official Ustream channels.
U-18 National Team will be entering as the two-time (2012 and 2013) defending U-18 world champions.
A Group stage will open action Friday. The top three finishers from Group A will battle with the top three finishers in Group B in the Super Round. The two 'Super' nations with the best overall records will collide in U-18 World Championship finale on Sunday, 6 September at Japan's "Baseball Mecca", historic Koshien Stadium.
Nippon Professional Baseball (NPB), a WBSC Member, is adjusting the Hanshin Tigers' home schedule at the legendary 47,000-seat Koshien Stadium to further generate electricity at the 2015 WBSC U-18 Baseball World Cup.
The 12 qualified nations of the 2015 U-18 Baseball World Cup are No. 1 Japan, No. 2 United States, No. 3 Cuba, No. 4 Chinese Taipei, No. 7 Canada, No. 8 South Korea, No. 11 Italy, No. 12 Mexico, No. 14 Australia, No. 15 Brazil, No. 20 Czech Republic and No. 29 South Africa.