News
2015-10-02
Sports agency launches with Olympic gold medalist as head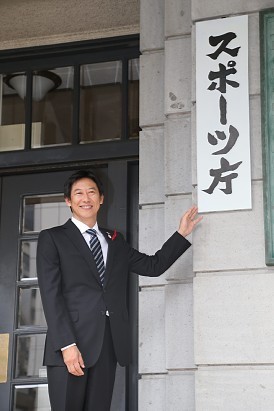 TOKYO (Kyodo) -- The Japan Sports Agency was launched Thursday to coordinate the country's sports administration ahead of the 2020 Tokyo Olympics and Paralympics, with an Olympic gold medalist serving as its first commissioner.

Set up under the Ministry of Education, Culture, Sports, Science and Technology with 121 staff members from seven different ministries, the agency is tasked with improving Japanese athletes' performance and people's health, while also energizing local communities.

It will also play a key role in policymaking and as the coordinator of sports-related projects that cut across ministries and agencies.
Daichi Suzuki, who won the men's 100-meter backstroke at the 1988 Seoul Olympics, officially assumed the post of the agency's first commissioner on Thursday morning as education and sports minister Hakubun Shimomura handed him a written appointment.

"I can't deny that I lack experience in administration but I will try and acquire that and work forward in my own way," Suzuki said at a press conference.
Suzuki became the youngest-ever chairman of the Japan Swimming Federation in 2013. Currently, he is an executive board member of the Japanese Olympic Committee and a professor at Juntendo University.
He said that he has set a target of exceeding Japan's record of 16 Olympic gold medals for Tokyo 2020 and hopes to aim for double-digit gold medals at next year's Olympics in Rio de Janeiro.

"As long as the schedule allows, I will aim to be a commissioner that can go to the venues and battle together with the athletes," said Suzuki.