News
2015-10-06
Nexen Hereos to play at domed baseball field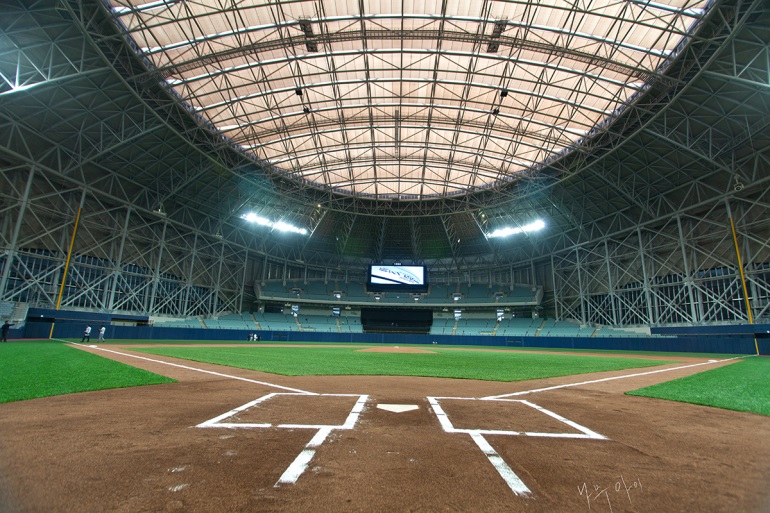 The Korea Times October 5, 2015

The Nexen Heroes will play at Seoul's new Gocheok Sky Dome baseball stadium next season, officials said Monday.

The Seoul Metropolitan Government (SMG) and the Heroes signed an agreement allowing the Korea Baseball Organization club to use the domed stadium as its home field through 2017.

With the deal, the Heroes will leave the 10,000-seat Mokdong Baseball Stadium in Yangcheon-gu and move to the 20,000-seat stadium in Gocheok-dong, Guro-gu. Under the deal, the SMG will lease the stadium on a daily basis, the same as the Heroes did at Mokdong stadium, and they will play approximately 100 games there each season. The club will also be given priority in using the stadium and other rights to use concession stands, advertisement stands and other for-profit facilities.

The agreement came after a series of feuds between the SMG and the Heroes as the latter expressed difficulties in covering the expensive maintenance fee for the domed stadium. After being established in 2008, the Heroes have been using the Mokdong stadium as their home, paying some 4 billion won every year to its owner Seoul City, but the fee for the Gocheok stadium will likely be double.
Breaking ground in 2008, the SMG has poured some 240 billion won into construction of the stadium, believing that the domed stadium will fill the shoes of the now-demolished Dongdaemun Stadium, which had been Korea's cathedral for amateur baseball. The initial plan was not to build a domed stadium, but the SMG changed it in 2009 and decided to lease the stadium to a professional club.

Last year, while the SMG was in negotiation with the Heroes, it inked a deal with the Korea Baseball Association, which sanctions amateur and international baseball, to only use the Mokdong stadium for amateur baseball from 2016, forcing the Heroes to move to the Gocheok dome.

According to the SMG, the two sides have been in talks since January and came to an agreement on the Heroes' use of the Gocheok dome. Despite the agreement, the two sides still are not in full accordance on details of the terms, raising expectations that more time will be needed before the full agreement is set.  The Gocheok stadium was completed on Sept. 15 and is scheduled to host a concert by K-pop boy-band EXO on Oct. 10.