News
2016-03-14
WBSC UNVEILS LOGO, NATIONS FOR U-15 BASEBALL WORLD CUP 2016 IN IWAKI, JAPAN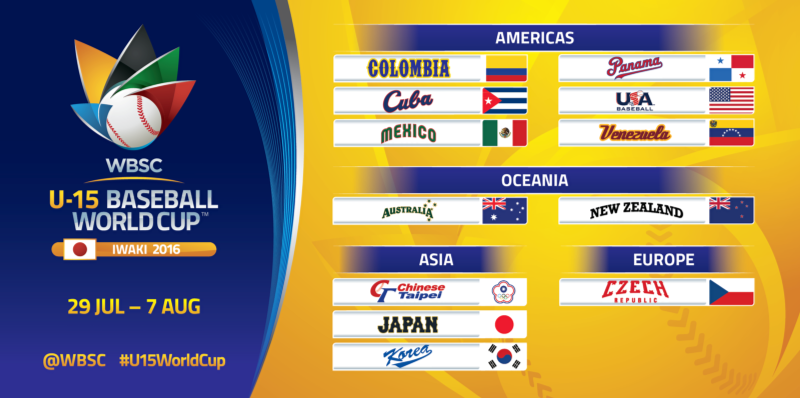 LAUSANNE, Switzerland -- The World Baseball Softball Confederation (WBSC) today revealed the new official emblem of the U-15 Baseball World Cup, the youth baseball world championship held biennially for National Teams composed of the top players up to 15 years-old.

The III WBSC U-15 Baseball World Cup 2016 will be staged from 29 July to 7 August in Iwaki, Japan, an area devastated by the earthquake and tsunami that struck Japan five years ago on 11 March 2011. Focusing on legacy and sustainability, three existing venues in the region will stage all U-15 world championship games.

WBSC today also formally announced the 12 nations that have advanced through their respective continental qualifiers to compete for the world title at the U-15 Baseball World Cup in Iwaki.

Said WBSC President Riccardo Fraccari: "The WBSC is proud that our sport is at the forefront of youth sport with already established and marketable youth engagement platforms like our U-15 Baseball World Cup. WBSC and all our sport's stakeholders remain highly committed to further growing the appeal and sustainable development of our sport across all age groups and across new territories worldwide, particularly during this new era of Olympic Agenda 2020, which has opened up a new door to earn a place for our sport and athletes at the Olympic Games. And, at the time of the WBSC U-15 Baseball World Cup in Japan, we will learn whether our sport will make a historic return to the Olympics in 2020."

National Teams

The III U-15 Baseball World Cup features a global footprint that spans across the Americas (Central America, North America, South America and the Caribbean), Asia, Europe and Oceania:
• Americas (6): Colombia, Cuba, Mexico, Panama, United States and Venezuela
• Asia (3): Chinese Taipei, Japan and South Korea
• Europe (1): Czech Republic
• Oceania (2): Australia and New Zealand
World No. 3 Cuba -- who defeated No. 2 USA in the finale of the 2014 U-15 Baseball World Cup in front of 15,000 fans in Mazatlán, Mexico -- will enter Iwaki as the defending U-15 world champions.

Venezuela, the current world No. 10, defeated No. 4 Chinese Taipei in the bronze medal finale in Mazatlán.

The U.S. rebounded from 2014 to finish first at the 2015 U-15 Americas continental qualifier, defeating Colombia in the final in Aguascalientes, Mexico.

Chinese Taipei won the 2015 U-15 Asia qualifier, defeating host Japan in the finale in Shizuoka, while world No. 20 Czech Republic qualified out of the European qualifier in Brno, Czech Republic.

World No. 14 Australia and No. 26 New Zealand will be representing Oceania.

Venues

Three already existing stadiums will stage world championship games, including 30,000-seat Iwaki Green Stadium, which hosted the Nippon Professional Baseball (NPB) All-Star Game in 2013 and will serve as the main stage of the III WBSC U-15 Baseball World Cup.

Together with Iwaki Green Stadium, Taira Baseball Stadium and Nambu Stadium form the Iwaki cluster of venues, which will stage a total of 50 games in 10 days -- and as many as six U-15 Baseball World Cup games per day.

The official hashtag of the WBSC U-15 Baseball World Cup is #U15WorldCup.