News
2016-03-30
Kiwi slugger lands pro contract in Japan
By New Zealand Herald, Wednesday Mar 30, 2016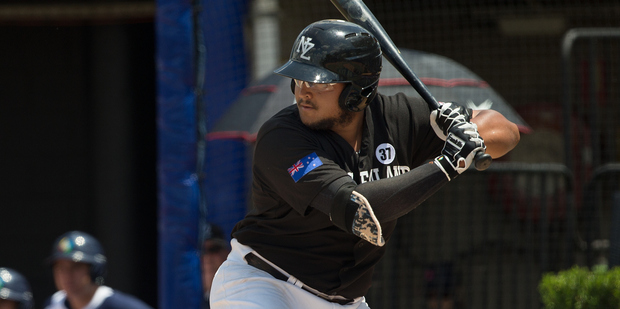 A match winning performance of four hits in five at bats with a home run and seven runs batted in against the Philippines at the World Baseball Classic Qualifier (WBCQ) in Sydney has catapulted New Zealand Diamondblacks first baseman Boss Moanaroa to a contract to play professional baseball in Japan.
Moanaroa will play for the Niigata Albirex Baseball Club in the Independent Baseball Challenge League, the highest level independent professional league below the top Nippon Professional Baseball (NPB) League. Niigata City is situated about 340km north-west of Tokyo on the main island of Honshu.
"The negotiations have been going on for over a year and half, but that performance in Sydney must've helped," says Moanaroa, who added, "without the help and support of (Diamondblacks Pitching Coach and Baseball NZ Assistant General Manager) Naoyuki Shimizu it wouldn't have happened."
"Naoyuki played a massive part in getting me a spot in Japan with negotiating, helping me out with equipment and really just guiding me through everything," said the former Boston Red Sox minor league slugger, "I'm so honoured and privileged to have him and Ryan (Flynn, Baseball NZ CEO) backing me a hundred percent in this process and to have them by my side through this journey of my career."
Moanaroa heads to Japan later this week to begin this new chapter in his life and said he is prepared. "Obviously the big challenge for me will be adjusting to the Japanese style of baseball and culture, but I'm sure it shouldn't take that long."
Hailing from the Waikato River area, the NSW Australian-born slugger still calls New Zealand home, despite growing up in Australia. Raised with football and BMX riding on his mind, Boss' love of baseball grew over his teenage years and then catapulted to heights he'd never dreamed of in a very short space of time in baseball terms.
Establishing himself in Australia as a junior, Boss was a six-time state competitor in baseball. Noted as a standout player in high school, he made the Australian combined high school team in 2008, which paved the way for a trip to Canada to represent Australia in a major U18 tournament where he caught the eye of Major League Baseball scouts and he spent three productive years in the Boston Red Sox system.
Moanaroa was a stand-out performer with the Canberra Cavalry in the recently completed Australian Baseball League (ABL) having had some time away from the game after being released by the Red Sox where he played for their affiliate the Greenville Drive.
"This is huge for Boss and will give his career the restart it needs" said Baseball New Zealand CEO Ryan Flynn, who said he believes Boss can carve out a long and successful career at the highest levels in Japan, which is some of the best baseball on the planet. "Boss is a very talented player on both sides of the ball who has played well across the world and after sometime away from the game, he has come back a much stronger player."
Flynn added that having a player like Boss playing at such a high level of baseball is a "massive boost to the game in New Zealand as it promotes our program to a new audience and as more players reach their individual goals and play at a high level certainly 'enhances and strengthens our national teams as they strive to compete on the world stage." Flynn said it also strengthens our important relationship with Japan which has been carefully nurtured by Naoyuki Shimizu and his time, resources and contacts.
The good news for the Moanaroa family continues as Boss' older brother Moko also impressed scouts at the recent World Baseball Classic Qualifier and he will join Boss on the roster of the Canberra Cavalry for the 2016-2017 Australian Baseball League season.
Outfielder Moko played four years in the Boston Red Sox system and previously played for the Sydney Blue Sox in the ABL and returns after two years away from top level baseball, having played at club level over the last two summers before featuring for the Diamondblacks recently, ending the WBCQ tournament batting .500 in the three games.