News
2016-07-16
High school baseball powerhouse to take hiatus after loss in tourney preliminary round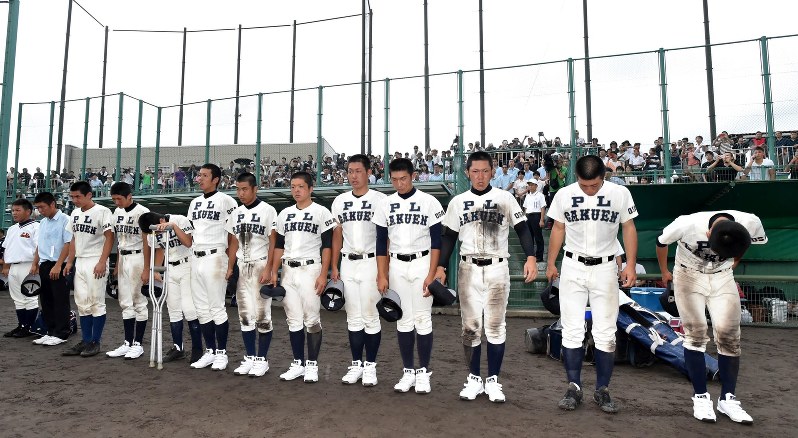 HIGASHIOSAKA, Osaka July 16, 2016 (Mainichi Japan) -- The PL Gakuen High School baseball club, a giant in Japanese high school baseball competitions for decades, will suspend its activities after losing a game in the preliminary round for the summer National High School Baseball Championship.  The club had stopped recruiting players following a series of scandals involving violence and bullying.
PL Gakuen lost to Higashiosaka College Kashiwara High School 7-6 in the first game of the Osaka prefectural preliminary round on July 15. Some 2,800 spectators including PL Gakuen alumni packed the stadium, some watching the game from outside because there weren't enough seats, and cheered on the PL Gakuen offense in the top of the ninth. After the last batter flied out, PL Gakuen fans applauded, saying thanks to the players.
Third-year student Koki Fujiwara, who rapped out three hits, ran before the visitors' seats and said, "I'm really sorry. For once I wanted to sing the school song." Captain Shota Umeda sobbed in front of the dugout.
PL Gakuen alumni at the game praised the team for playing a good game. Baseball commentator and former Tokyo Yakult Swallows infielder Shinya Miyamoto said, "It was a good game. These players played baseball in the hardest time (for PL Gakuen)." On the club's hiatus, Miyamoto expressed mixed feelings, saying, "I feel that there's nothing to be done and then also feel like there's something that can be done." He continued, "I don't want to think that this is the end. I hope that the PL baseball club will remain."
Sadaaki Yoshimura, a former Yomiuri Giants outfielder who was the captain of the PL baseball club when it clinched the spring high school baseball championship for the first time in 1981, applauded with spectators after the game.
"This many fans gathered, some even standing (outside the stadium to see the game). I'm glad I got to see the players in PL uniforms putting their hearts and souls into running, pitching and batting," Yoshimura commented.
The PL Gakuen baseball club was established in 1956. It has won a total of seven championships in the spring and summer baseball tournaments at the Hanshin Koshien Stadium in Nishinomiya, Hyogo Prefecture. The club stopped recruiting new players in the spring of 2015 following a series of abuse scandals and had only 12 third-year students left on its roster. The school's parent organization, the Church of Perfect Liberty, says the club's future is still up in the air.