News
2016-11-21
Oh strikes out but steals show in Taiwan exhibition
The Japan Times Nov 20, 2016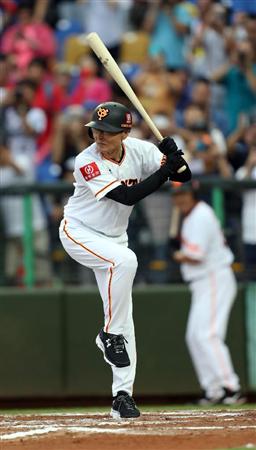 TAICHUNG, TAIWAN – Baseball legend Sadaharu Oh turned back the clock on Sunday, when he pinch hit in an exhibition against a team of former Taiwan stars.
Oh, whose father is from China, was instrumental in the development of pro baseball in Taiwan and is idolized there as he is in Japan. Playing with a team of former Yomiuri Giants, the 76-year-old Fukuoka SoftBank Hawks chairman stood in as a seventh-inning pinch hitter.
Wearing his famous No. 1 Giants uniform, Oh struck his famous flamingo batting stance in a confrontation with Kuo Tai-yuan, a former Seibu Lions great who is known in Japan as Taigen Kaku.
Oh struck out, propelling himself to the dirt with the force of his swing, but was thrilled by the experience.
"I thought that I would never have another chance to wear that uniform," he said. "Whether I got a hit or not was immaterial. It was great just to go up to the plate.
"I hope this is an opportunity to increase the baseball population. The enthusiasm of the Taiwan fans made this all worthwhile."
The former Giants stars won the game 15-11.