News
2016-12-10
Host China wins big and Japan no-hitter highlight opening of U-12 Baseball Asia 2016
Day-1  BFA U-12 Championship 2016  December 9, 2016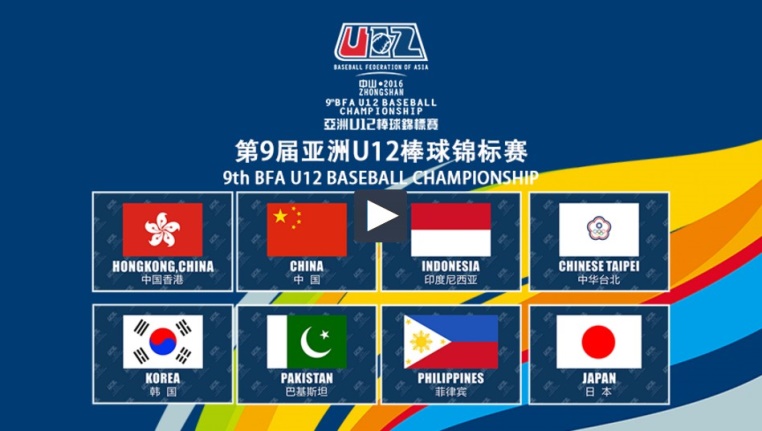 ZHONGSHAN, China -- A no-hitter from world No. 1 Japan's Joji Uchihara highlighted Day 1 of competition of the U-12 Asia 2016, which serves as a qualifier for the WBSC U-12 Baseball World Cup 2017.

Japan defeated No. 37 Philippines, 15-0, while host/No. 18 China officially inaugurated the continental event with a 10-0 shutout over No. 48 Indonesia.

No. 4 Chinese Taipei, the defending U-12 champion of Asia, beat No. 26 Hong Kong, 19-0, and No. 3 Korea got by No. 25 Pakistan, 5-3.

Day-2 Saturday, 10-Dec
1. Japan v Korea at 10:00  2. Chinese Taipei v China at 14:00
Day-3 Sunday, 11-Dec
1. China v Hong Kong at 14:00
Day-4 Monday, 12-Dec
1. Semi-final at 10:00 2. Semi-final at 14:00
Day-5 Tuesday, 13-Dec
1. Asia Championship Game
The 20-game continental youth championship in Zhongshan serves as a qualifier for the IV WBSC U-12 Baseball World Cup® 2017 in Tainan, Taiwan.
The U-12 Asia Championship is being hosted by the China Baseball Association.