News
2017-06-10
PACIFIC PITCH: U.S.-JAPAN BASEBALL DIPLOMACY – EXHIBITION OPENED IN TOKYO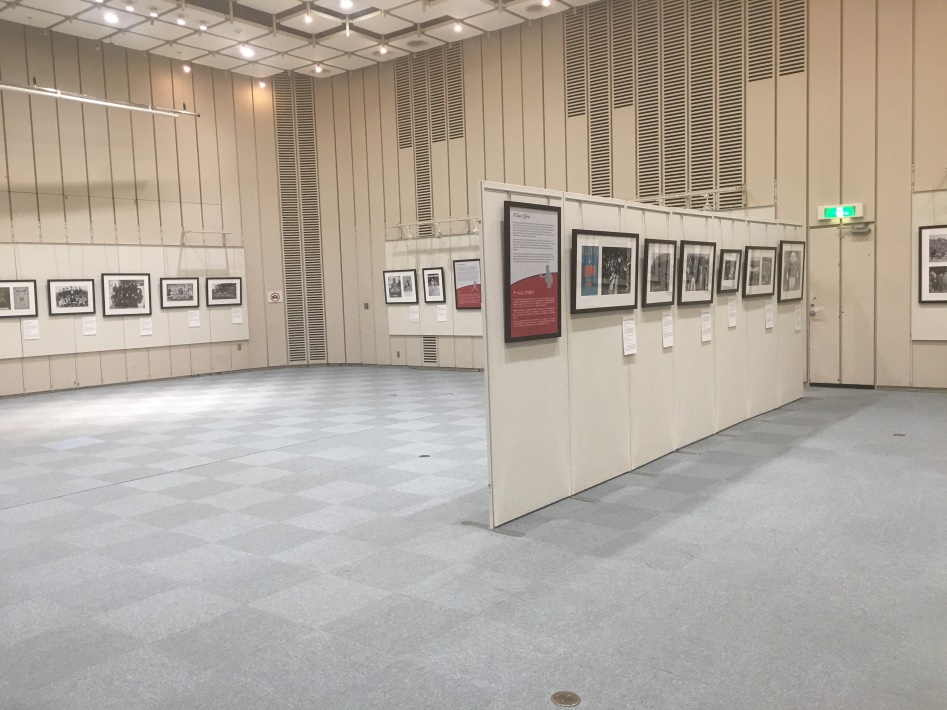 TOKYO, Japan –The U.S. Embassy in Tokyo, in collaboration with Meridian International Center (Washington, DC), have announced the launch of "Pacific Pitch: U.S-Japan Baseball Diplomacy," an exhibition charting the history of our shared
Advised by Robert Whiting, author of You Gotta Have Wa, The Meaning of Ichiro, and The Chrysanthemum and the Bat, and co-curated by Dr. Sayuri Guthrie Shimizu, Professor of History and Dunlevie Family Chair in History at Rice University, "Pacific Pitch" uses more than 50 facsimiles of archival photographs and ephemera to relay how Japan and the United States have bonded through friendly competition.
The images, many never previously exhibited, are draw from the collections of the Japanese Baseball Hall of Fame, the National Baseball Hall of Fame and Museum, the Library of Congress, university libraries, and private collections, among others. Robert Whiting comments as below:
Japan and the United States have a history that spans more than 150 years. For most of that time, it has been the common sport of baseball that has played a key role in forging relations between the two countries. Introduced by an American professor teaching in Tokyo in Early Meiji, yakyu, or field ball, as it was also known, became the national sport of Japan in the late nineteenth century when a squad of Japanese schoolboys from the prestigious First Higher School of Tokyo prep school defeated a team of Americans playing for the Yokohama Country and Athletic Club of Japan in the first formal series of games between the two nations. What followed was a century and a half of transpacific baseball: interscholastic tours, collegiate tours, and major league tours, as well as junkets by assorted soft ball, semi-pro, and women's baseball clubs, that helped build lasting friendships between Japanese and Americans.
A visit by Babe Ruth in 1934 drew a million fans to the Ginza and temporarily defused escalating tensions, while a visit by the San Francisco Seals in 1949 rebuilt good will between the two wartime enemies. Joe DiMaggio and Marilyn Monroe honeymooned in Japan and it became the year's biggest news. It was followed quickly by the arrival of Japanese American Wally Yonamine's flair and winner-take-all style which revolutionized the ritualized stoicism of samurai sport. Mickey Mantle, Duke Snider, and Willie Mays all hit post-season round trippers on visits to Japan. Masanori Murakami became the first Japanese to play big league baseball in 1964. Hank Aaron and Sadaharu Oh had a home-run contest in Tokyo in 1974.
In 1995, Hideo Nomo's success defused trade conflicts and permanently opened the MLB door for fellow stars Hideki Matsui, Yu Darvish, and a host of others, including Ichiro Suzuki, who became a cultural icon in America and will become the first Japanese to enter the Cooperstown Hall of Fame – if and when he ever retires. Tens of thousands of Japanese flew to the United States to watch these stars play, while in Japan, MLB satellite TV ratings shot through the roof. As you will see from the photographs in Pacific Pitch, the grand old game of baseball has been the connective tissue that has bound the United States and Japan together for nearly a century and a half. It has been a useful prism through which to view our two countries' relations.