News
2018-12-05
Praise for home of Tokyo 2020 baseball and softball as Coordination Commission make visit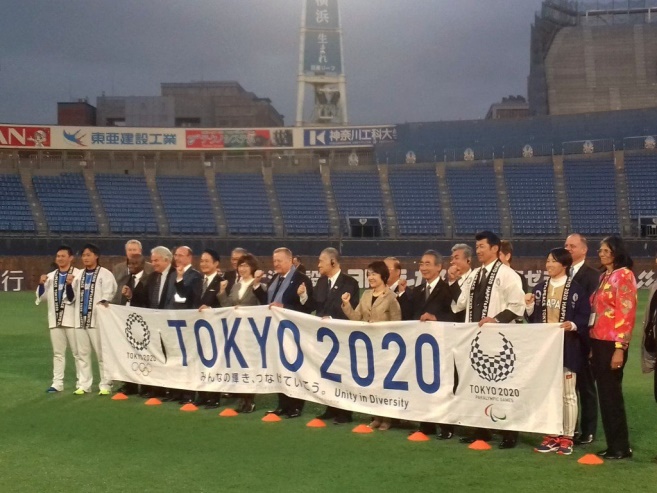 • InsidetheGames Monday, 3 December 2018  John Coates has praised renovation efforts at the "home of Tokyo 2020 baseball and softball" as the Australian led an International Olympic Committee (IOC) Coordination Commission visit here today.
The Coordination Commission chair enthused that the Yokohama Baseball Stadium would prove a successful venue for the Olympic Games.

The IOC delegation were greeted by Yokohama Mayor Fumiko Hayashi, who outlined the improvements being made at the venue.
Athens 2004 baseball bronze medallist Daisuke Miura and current professionals Kenta Ishida and Yasuaki Yamazaki, who play for the Yokohama DeNA BayStars at the stadium, were also present.
The players threw baseballs with members of the Coordination Commission during the visit.
Softball player Eri Yamada, an Athens 2004 bronze and Beijing 2008 gold medallist, also greeted the IOC officials.
Beijing 2008 was the last time baseball and softball feature on the Games programme, after it was dropped for London 2012 and did not return for Rio 2016.
Baseball and softball will return at Tokyo 2020, after being one of five additional sports proposal by organisers and approved by the IOC.
Coates pointed out the popularity of the sport in several countries represented by officials on the Coordination Commission, while praising the venue.
Yokohama Mayor Fumiko Hayashi explained the upgrades being made to the stadium ©ITG
"We are very pleased to see the return of baseball and softball to the Olympics," Coates said here today.
"We know how popular the sport is in your country.
"It is in Anita DeFrantz's country America and in my country Australia, as well as many other countries here today, including Aruba.
"We are very pleased and we thank you with what you are doing to increase the capacity here.
"This promises to be a very successful venue.
"This will be the home of baseball and softball at the Games and we are very excited."
The capacity of the Yokohama Baseball Stadium is currently being increased from 29,000 up to 35,000, with new stands being added over the next two winters when Nippon Professional Baseball league matches are not being held.
Yokohama Mayor Hayashi expressed her hope that the improvements being made to the stadium would encourage people to attend matches during the Games at the venue.
A total of six softball games and one baseball game will be staged at Fukushima Azuma Baseball Stadium, as part of the regeneration efforts following the destructive 2011 Great East Japan Earthquake.
The remainder of the matches will be held in Yokohama.
Six teams are set to feature in both the baseball and softball tournaments at the Games, with Japan qualifying in both as the hosts.