News
2018-12-06
Japan, Canada, Chinese Taipei lead new WBSC Women's Baseball World Rankings
Including 8th Korea, 10th Hong Kong, 13th India and 14th Pakistan from Asia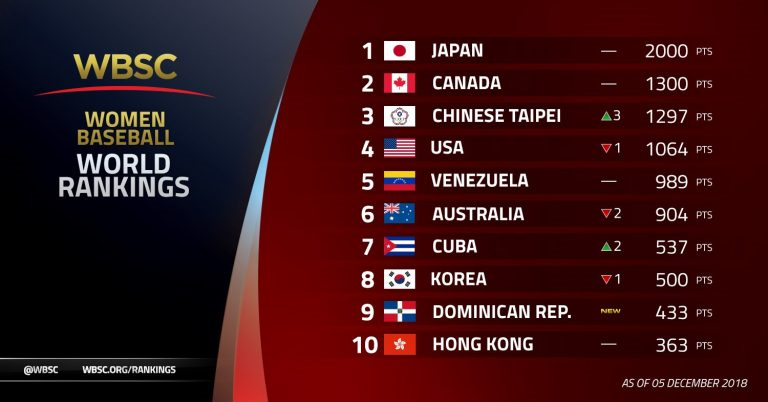 The World Baseball Softball Confederation unveiled the new WBSC Women's Baseball World Rankings on December 5. The latest rankings reflect the results of over 100 matches from the Women's Baseball World Cup across an evaluation period of 2014-2018.
Winners of the last six Women's Baseball World Cups, Japan remains the most advanced nation and has scored the maximum 2000 points. The six-time defending World Champions currently carry a 30-game World Cup win streak and have held the No. 1 ranking since 2010.
Second in the world, Canada has finished in the top four of all eight editions of the Women's Baseball World Cup, including a third-place finish this year at the VIII Women's Baseball World Cup 2018 in Viera, Florida (USA).
New No. 3 Chinese Taipei made the biggest jump in the rankings, following the nation's highest-ever World Cup finish, second place, in Viera. Chinese Taipei, now only three points behind No. 2 Canada, also came the closest to defeating Japan at the World Cup this year, falling by a score of 2-1 in the Opening Round.The United States dropped one place to No. 4 in the world. After having medalled in each of the first six editions of the Women's Baseball World Cup, USA finished fourth this year and seventh in 2016.
Venezuela maintained its No. 5 ranking, matching the South American country's fifth-place finish in Viera.
Australia fell two places to No. 6, following a seventh-place finish in Viera that saw Australia knocked out of the Opening Round.
Cuba advanced two spots to No. 7, while follow Caribbean nations Dominican Republic and Puerto Rico made their debuts in the rankings at No. 9 and No. 12, respectively.
While Hong Kong scored a dramatic victory over Cuba at this year's World Cup, the nation maintained its previous rank at No. 10.
Netherlands had the biggest drop in the rankings, falling three spots to No. 11, while No. 13 India and No. 14 Pakistan conclude the list of ranked nations.
To view all the WBSC World Rankings and formulas, visit www.wbsc.org/rankings.