News
2018-12-22
Baseball for Tomorrow in Sri Lanka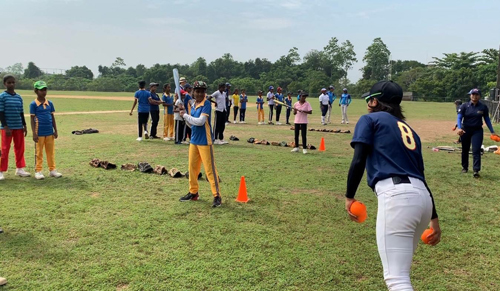 Under the theme 'Baseball for Tomorrow' a five-day baseball camp organised jointly by the Japan Women's Baseball Federation, Japan Embassy of Sri Lanka and Amateur Baseball/Softball Federation was held in Sri Lanka.

Officials who arrived in Sri Lanka to conduct the camp were: International co-ordinating Director of Japan Baseball Federation, Hiroko Yamada, Coach of the Japan Baseball Federation, Akiko Shimura, Coach of the Australian Baseball Federation, Riza Kagawa, former member of the Japan Ladies' Baseball Federation, Ayako Rokkaku and Kasuya Yagi, former JICA Voluntary officer.

The main task of conducting the program was to introduce the game to women and to develop the technique and skills of the women baseball players. To fulfill the first intention a three day program was held in Kandy with a participation of over 100 amateurs and similar programmes were held at the Japan Friendship Grounds, Kelaniya, Sri Jayawardenepura Campus, Sirimavo Bandaranaike BV and Magedara High School successfully.

A training programme was held for Women Baseball players of the Sri Lanka Army and Navy as the second intention. Commenting on the event the captains of the Army and Navy teams Milka Priyadarshani and S.W.S.M. Wickremaratne said that the players were highly satisfied and highly appreciated the endeavour of the Japanese officials. They also said that they learnt a lot of the game, the technique and application under this friendly officials.

Speaking at the farewell function the Japanese Ambassador in Sri Lanka Akira Sugiyama, expressed his appreciation for the Sri Lankan players' enthusiastic participation and was impressed by their passion for excellence on baseball, and his heartfelt gratitude to all those who made this camp possible, especially the Sri Lanka Amateur Baseball/Softball Association headed by Fazil Hussain.