News
2019-02-14
Groups, locations revealed for WBSC Premier12 2019
Taiwan and Japan of Group B play in Taichung and Korea of Group C in Seoul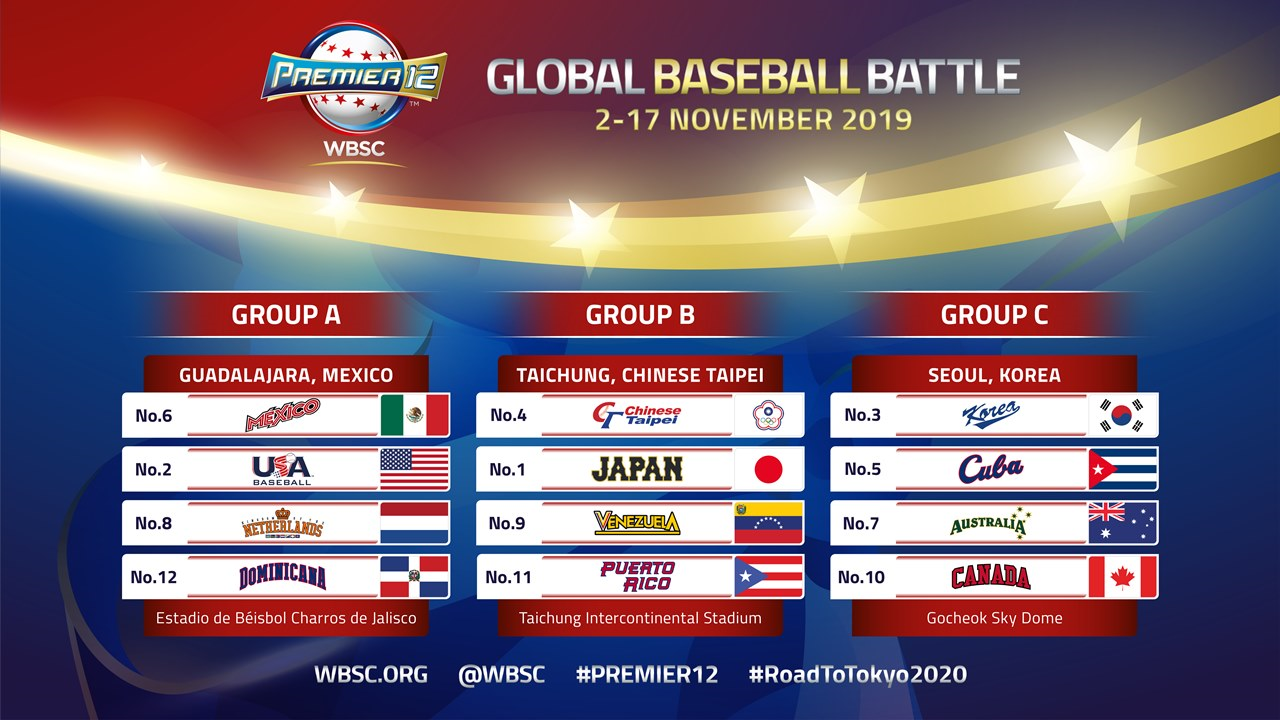 MEXICO CITY -- The World Baseball Softball Confederation (WBSC) revealed on Fe bruary 13 the locations and groups for the II WBSC Premier12®, the year's top international baseball competition and Tokyo 2020 Olympic Qualifier, which will be staged from 2-17 November and feature the 12 best Men's National Teams in the world rankings.

The announcements were made at a press conference in the Mexican capital, together with the Mexican Baseball Federation (FEMEBE), the Charros de Jalisco professional baseball club of the Mexican Pacific League (LMP), Mexico's National Commission for Physical Culture and Sport CONADE, and the Government of Jalisco.

In addition, WBSC President Riccardo Fraccari and Mexican President Andrés Manuel López Obrador officially unveiled the trophy of the 2019 WBSC Premier12 at the Presidential Palace.
The official website of the II WBSC Premier12 -- premier12.wbsc.org/2019 -- was also officially launched in six languages, including English, French, Japanese, Korean, Spanish and Traditional Chinese.

Groups and Locations

Group A features world No. 2 USA, No. 6 Mexico, No.8 Netherlands and No. 12 Dominican Republic. The group will be hosted by the Charros at Estadio de Beisbol Charros de Jalisco. Group A will officially open the global tournament with Game 1 on 2 November.

Group B features world No. 1 Japan, No. 4 Chinese Taipei, No. 9 Venezuela and No. 11 Puerto Rico. These four teams will compete against each other at Taichung Intercontinental Stadium, with the group hosted by the Chinese Taipei Baseball Association (CTBA).

Group C features the inaugural 2015 Premier12 champion/current world No.3 Korea, along with No. 5 Cuba, No. 7 Australia and No. 10 Canada. These teams will go head to head at Seoul's Gocheok Sky Dome, with Korea Baseball Organization (KBO) -- the nation's top professional sports league -- moving the start of its 2019 season to the earliest date in history (23 March) to close the season in October, in order to host Premier12 and have its biggest stars filling the roster of the Korean National Team.

The top two teams from each group will advance to the six-team Super Round, which will be hosted by Japan's Nippon Professional Baseball (NPB) league and played at Chiba's ZOZO Marine Stadium and the iconic Tokyo Dome, where the championship final will also be played.

The inaugural WBSC Premier12 generated the highest television ratings of any 2015 international sporting event in co-hosts Chinese Taipei and Japan.

WBSC President Riccardo Fraccari said: "With four world-class hosts sharing duties -- and two places at the Tokyo 2020 Olympic Games at stake -- we expect to break all ticketing, viewership and media figures of the 2015 edition, while providing top conditions for the players and teams to perform."

Charros de Jalisco Chairman Salvador Quirarte Villaseñor said: "We are proud to partner with WBSC to bring this year's top international baseball tournament to Jalisco, where we promise to deliver an electric global atmosphere for all the players, teams and the fans. And it's a tremendous honour to have the country's baseball team -- the Mexican National Team -- call Estadio de Beisbol Charros de Jalisco their home for the opening round of this major event."

CTBA President Jeffrey Koo Jr. said: "The inaugural Premier12 generated record TV numbers and social media volume in Chinese Taipei. CTBA, with its extensive experience hosting top-notch baseball events, is thrilled to be a host again and will ensure to treat all participants, officials and fans to an unforgettable experience. With the world's 12 highest-ranked teams in this tournament, all three groups are bound to be extremely competitive -- and it's a welcomed challenge and exciting for our fans to have baseball powerhouses like Japan, Venezuela and Puerto Rico in the Chinese Taipei group."

KBO Commissioner Chung Un-chan said: "Each team knows where they're going and whom they will be playing against in this very challenging, world-level baseball competition, and it's an honour to partner with WBSC to host Premier12 and have our National Team -- the defending 2008 Olympic champions and 2015 Premier12 champions -- at home. We aim to defend both our titles and make it 2008 and 2015 again."

The top team in the Premier12 final standing from the Asia/Oceania territory (not including automatically qualified Samurai Japan) and the top finisher from the Americas will gain direct entries into the six-team Olympic Baseball event at the Tokyo 2020 Games, without having to go through qualifiers. The WBSC Executive Board recently made a ruling, however, that if no team from Asia or Oceania finishes among the top six of the Premier12, this Olympic slot shall be deferred to the last Olympic Qualifier.