News
2019-05-15
WBSC unveils schedule for U-12 Baseball, Softball World Cups in Tainan; Pokémon joins as Ambassador of U-12 Baseball World Cup 2019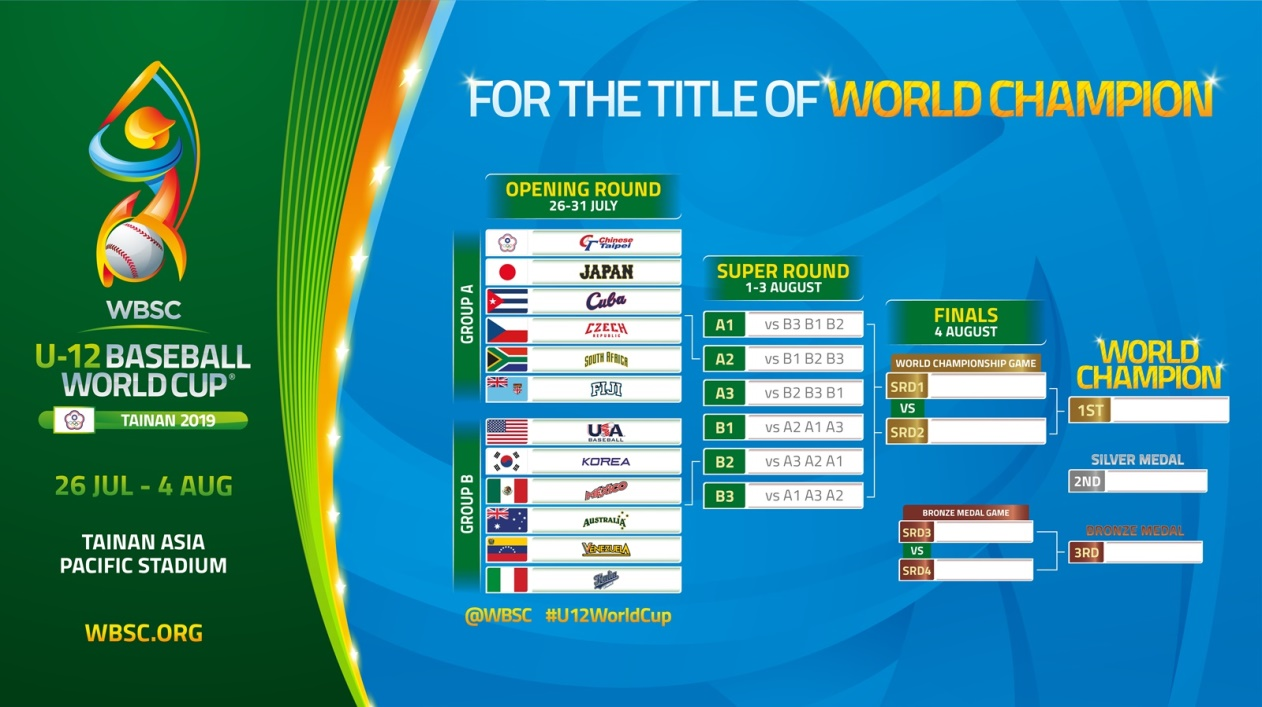 LAUSANNE, Switzerland - The World Baseball Softball Confederation (WBSC) today revealed the Opening Round schedules of the inaugural WBSC U-12 Softball World Cup® 2019 and the V WBSC U-12 Baseball World Cup® 2019, while welcoming the Pokémon® franchise as Ambassador of the U-12 Baseball World Cup 2019.

The 12-nation U-12 Baseball World Cup will be played at its news home, the US$ 130 million-dollar Tainan Asia Pacific Stadiums, from 26 July to 4 August in Tainan City, and feature 50 total games across the Opening Round, Super Round and Finals.

The inaugural U-12 Softball World Cup -- will feature the mixed (boys and girls) teams of Chinese Taipei, Czech Republic, Indonesia and Peru -- and take place over five days of competition, from 26-30 July, with a total of 14 games at Tainan's Guei-Jen Park.

A joint Opening Ceremony for all athletes and National Team delegations of the U-12 Baseball World Cup and U-12 Softball World Cup will be staged on Friday, 26 July, at Asia Pacific Main Stadium at 5:50 p.m. local time and live-streamed globally.

Pokémon goes to bat for WBSC U-12 World Cups
Pokémon characters will have a special presence at the U-12 World Cups in Tainan, engaging with fans and being a part of #selfies. In addition, iconic Pokémon character Pikachu will be featured on the composite U-12 Baseball World Cup tournament logo and fans will be able to purchase co-branded souvenirs, such as hats and t-shirts, featuring many of the famous Pokémon characters.

"The U-12 Baseball and Softball World Cups are the only World Cups in this age category staged by an international sports federation," said WBSC President Riccardo Fraccari. "These youth-targeted global products align with our mission to attract the next generation of young athletes and fans, and further expand our sport's presence worldwide.

"And with the schedules now known, Pokémon joining as official Ambassador and the new $130 million-dollar venue in Tainan near completion, the stage is being set to deliver the biggest and most exciting U-12 Baseball World Cup in history and successfully launch the new U-12 Softball World Cup."

European champions Italy will face South America's top team, Venezuela.

World No. 1 Japan will open with European runners-up Czech Republic.

Oceania champions Australia and the three-time defending U-12 World Champions USA will meet on opening day.

Mexico, the 2nd Place finisher in the 2018 Americas Championship, will take on world No. 3 Korea, the 2nd Place finisher of the 2018 Asian Championship.

The top team on the African continent, South Africa, will open with wild card Fiji, who are making their debut in a Baseball World Cup.

Following by the Official Opening Ceremonies, Caribbean powerhouse Cuba will take on hosts and current U-12 Asian champions Chinese Taipei to conclude Day 1 action.The top three teams from each group will advance to go head to head in the Super Round from 1-3 August. Super Round teams will carry over their opening-round records against each other, with wins and/or losses against teams eliminated in the first round removed. The first- and second-place teams in the Super Round standings will compete in the Final on Sunday, 4 August, while the third- and fourth-place teams will play for the bronze medal.

Chinese Taipei's premier sports broadcaster Videoland has been awarded the host broadcasting rights of the WBSC U-12 Baseball World Cup 2019.

The U-12 Baseball World Cup is the highest-level of competition for 11- and 12-year-old baseball players.

South America's Peru will battle Europe's Czech Republic in the first-ever U-12 Softball World Cup game, while Indonesia takes on host Chinese Taipei.

The four teams will compete in a double round-robin, with the top two teams playing in the Final on Tuesday, 30 July, at 3:00 p.m. The 3rd/4th Place bronze medal match will be played at 1:00 p.m.

The Chinese Taipei Baseball Association (CTBA), in collaboration with the city of Tainan, is the host of both U-12 Baseball and Softball World Cups in Tainan.

How to Follow

The official websites of the U-12 Baseball World Cup and U-12 Softball World Cup have been launched in six languages, including English, French, Japanese, Korean, Spanish and Traditional Chinese, at u12bwc.wbsc.org and u12swc.wbsc.org.

Broadcast and live-stream agreements will be announced in future news releases.