News
2019-06-15
Baseball Federation of Japan re-elects YAMANAKA Masatake as President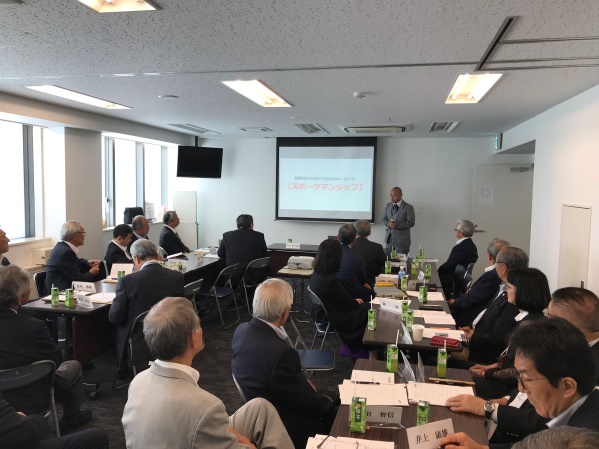 The Baseball Federation of Japan (BFJ) unanimously reelected Japanese Baseball Hall of Famer YAMANAKA Masatake (72) at their Executive Meeting in Tokyo on June 6 for the term of 2 years. YAMANAKA succeeded ICHINO Norio who resigned from the position in the middle of the term on May 29, 2018.

The Executive Committee appointed also 3 Vice Presidents: NAITO Masayuki (Japan Student Baseball Association, All-Japan University Baseball Federation), MUNAKATA Toyomi (Japan Rubber Baseball Association) and NOBATA Hiroo (Japan Amateur Baseball Association), and NAGAKUBO Yuji (Secretary General) as Executive Director. (More details under "ABOUT US").

Preceding the election, the Board of Councilors elected 21 member of the Executive Committee for the term of 2 years, approved financial report and budget, fiscal 2019 baseball program (April 2019 to March 2020) and office relocation. The new office start business on July 29 at the Japan Sport Olympic Square (10F), adjacent to Meiji Jingu Baseball Stadium.

Major international events of BFJ during 2019 Fiscal Year are as follows:
 .5th WBSC U-12 World Cup, Tainan, Taiwan July 26-Aug.4
 10th BFA U-15 Asia Championship, Shenzhen, China Aug. 19-25
 29th WBSC World Cup, Pusan, Kijan, Korea Aug. 30 – Sept. 8
 43rd Japan-US Collegiate Championship Matsuyama, Tokyo, Japan July 16-21
 29th BFA Asia Championship Taichung, Taiwan Oct. 14-20
 2nd BFA Women's Asia Championship November 9 – 15
 Yoshida Challenge Cup Paris, France August 29 – Sept. 1

BFJ President YAMANAKA, native of Oita, Kyushu, renowned amateur baseball skipper and amateur manager, led National Team Japan to its first Olympic Medal in baseball at the Barcelona Olympics in 1992. As an ace pitcher at Hosei University, he holds an unbroken record of 48 wins in the Tokyo Big6 League, played at Sumitomo Metal Baseball Club of industrial league and was its manager in 1981. From 1994 to 2002, he managed Hosei University and worked with NPB's Yokohama BayStars Club as Executive Managing Director in 2003. After retirement, he was an associate professor of Hosei University, served as Director of Baseball Federation of Japan and enshrined in Baseball Hall of Fame in Japan in January, 2016.