News
2019-07-18
USA DEFEATS JAPAN 3-2 ON BURLESON WALK-OFF HOMER, Even Collegiate Series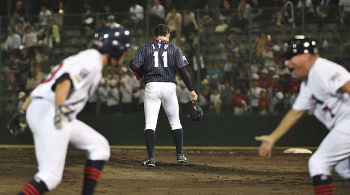 1 2 3 4 5 6 7 8 9 R H E
JPN 0 0 0 0 2 0 0 0 0 2 5 3
USA 1 0 0 0 0 0 0 1 1 3 7 0
Win: Abbott (2-1) Loss: Itoh (0-1


IMABARI CITY, JAPAN - Alec Burleson (ECU) hit a walk-off homer Wednesday to lead off the bottom of the ninth and send the USA Baseball Collegiate National Team to a dramatic 3-2 win over Japan at Imabari Municipal Baseball Stadium. It was the first walk-off homer of Burleson's baseball career.
"I hit it and I knew it had the distance," said Burleson. "I was just hoping it would stay fair."
The ball stayed fair and easily cleared the right field wall for the first homer of the series. Team USA tied the best-of-five series, 1-1.
The Collegiate National Team (7-4) got into position to win the game with an eighth-inning RBI single by Heston Kjerstad (Arkansas) to tie the game 2-2. Japan's pitching had put up six straight zeros before Kjerstad's RBI then Burleson's heroics.
Team USA had another strong night on the mound, which started with four shutout innings from Asa Lacy (Texas A&M). Lacy scattered three hits while striking out five, as Team USA combined to strike out 14 in the game.
"We pitched really well," said manager Dan McDonnell (Louisville). "We had another good outing and we showed toughness."
Andrew Abbott (Virginia) earned the win after throwing a shutout top half of the ninth. He got a big swinging strikeout to end the inning and strand the potential go-ahead run on second base. Burl Carraway (DBU) threw a 1-2-3 eighth and Chris McMahon (Miami) allowed two runs on one hit in three innings of work.
Team USA and Japan make the trip to Kizuna Stadium in Iwakuni, Japan, for Game 3 of the series Thursday.