News
2019-07-20
Japan Forces Deciding Game 5 Against USA Collegiate National Team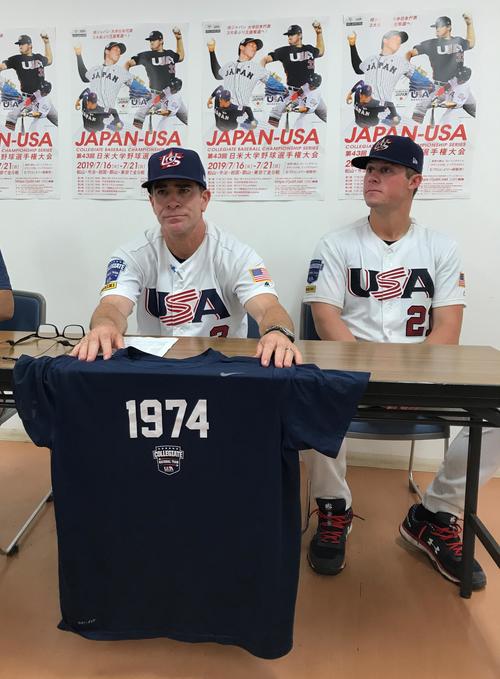 1 2 3 4 5 6 7 8 9 R H E
JPN 0 0 4 2 1 1 0 1 0 9 12 0
USA 0 0 0 0 0 0 0 0 0 1 6 2
Win: Hayakawa (1-0) Loss: L. Allen (0-1)

KORIYAMA, JAPAN - Japan homered in four straight innings Saturday to beat the USA Baseball Collegiate National Team, 9-1, at Kaiseizan Stadium. Japan tied the series 2-2 and forced Sunday's deciding Game 5 at Jingu Stadium in Tokyo.

"We are excited about Game 5 tomorrow night," said manager Dan McDonnell (Louisville). "I was a part of this series 10 years ago and we lost in Game 5. If you would've told me I could come back and get another Game 5, I would've said sign me up."

Yuya Gunji hit two of Japan's home runs, solo shots in the fourth and sixth innings. Takashi Umino started the scoring with a two-run homer in the third inning and Shugo Maki hit a solo shot in the fifth.

The Collegiate National Team could not get anything started at the plate against Japan starter Takashi Hayakawa, who scattered three hits over four innings in his second start of the series. Team USA scored its only run on a double play ball in the eighth.

Alika Williams led Team USA with two hits. Japan issued six walks and allowed six hits but the Collegiate National Team hit into three double plays.

The Collegiate National Team and Japan bus to Tokyo tomorrow morning for Game 5 of the series Sunday at Meiji Jingu Stadium, the home of the Tokyo Yakult Swallows professional baseball team.

Key Moments
• Japan's Takashi Umino hit a two-run homer over the left field wall as part of a four-run third inning.
• Japan's Yuya Gunji hit a solo homer to lead off the fourth inning and Japan added another run in the inning to increase its lead to 6-0.
• Shugo Maki hit a solo homer to straight away center field in the fifth inning.
• Gunji hit his second homer of the day as rain began to fall int he sixth inning.