News
2019-07-21
Japanese High school sporting events focus on preventing heatstroke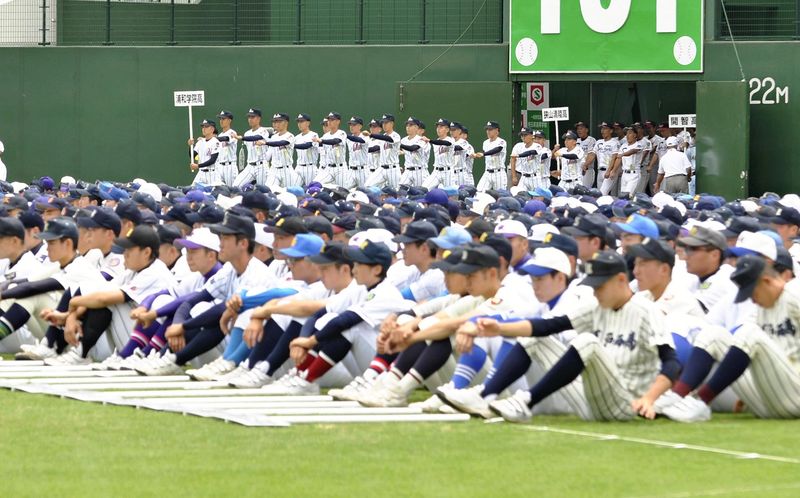 In response to the severe heat of recent summers, high school sporting events are taking steps to prevent health problems, such as instructing players to sit during baseball opening ceremonies and considering holding summer soccer tournaments in the relative cool of Hokkaido.
"There's still an idea that [players] should soldier on through the heat, but students should speak up as soon as they feel anything out of the ordinary," an expert said.
30-minute wait
"One, two. One, two." It was 11 a.m. on July 10 and the opening ceremony of the Saitama tournament to qualify for the National High School Baseball Championship was underway at the baseball stadium at the prefectural Omiya park.
Players marched onto the field, but when they reached their designated spots, they sat down with their legs stretched out in front of them and bent at the knee.
It took about 30 minutes for the 152 teams to enter. Players sat and waited on the outfield grass as successive teams came in.
During the 2017 Saitama tournament, about 10 players complained of feeling poorly. Sitting during the opening ceremony was instituted last year by the Saitama High School Baseball Federation.
Kawaguchi Technical High School captain Genta Sugano has marched in the ceremony for three consecutive years. "My first year I got dizzy due to the heat, but it was easier my second and third years because we could sit," Sugano said.
The Fukuoka tournament, which held its opening ceremony on July 6, also allowed students to sit this year, and none complained about feeling ill.
Maybe in Hokkaido?
"The severe heat in recent years created an extremely dangerous situation in which players were forced to play in conditions where a fatal accident or other incidents could have occurred," a member of the Japan Football Association said at a meeting in May.
The association decided to consider holding summer soccer tournaments, including the national high school championships known as inter-high, in cooler locations such as Hokkaido.
The Japan High School Baseball Federation is providing grants up to ¥150,000 for local tournaments to address the heat.
At the Shizuoka tournament, the stands at all 10 stadiums were equipped with misting equipment. Fans were also installed at the benches.
At this year's southern Kyushu track and field inter-high on Aug. 4-8, the Okinawa city government is planning to station a refrigerated vehicle at the Okinawa Comprehensive Athletic Park to hand out ice to athletes.
Each day, the city plans to prepare about 800 bags of ice weighing five to 10 kilograms each to use for icing down muscles and in beverages.
Changing mores
According to the Japan Sport Council, 170 students died from heatstroke while under school supervision from 1975 to 2017.
Of these, 145 deaths occurred during club activities, with the most deaths in baseball at 36, followed by rugby at 17, judo at 14, soccer at 13 and kendo at 11.
"In the past, it was mainstream thought that you shouldn't take many breaks, drink water or take off your mask for the sake of mental training," said a coach for a Tokyo high school kendo club. "Things are different now. The idea is spreading that skills should be honed after creating an environment with facilities like air conditioning."
"The idea that long practices make teams and individuals stronger is still deep-rooted in some places. Students might find it hard to tell a coach if they feel unwell, but if they feel off they should immediately stop exercising, move to a cool place and drink water," said Yoshio Toda, an expert in sports accidents and director of a laboratory that studies school safety.
13,000 minors taken to hospital
Rising temperatures are behind the efforts to prevent heatstroke at high school sports venues.
According to the Japan Meteorological Agency, last year 6,487 locations recorded extremely hot days with temperatures of 35 C or higher and 40,314 locations recorded hot days with temperatures of 30 C or higher. Both of these were the highest in the last five years.
According to the Fire and Disaster Management Agency, about 95,000 people were transported by ambulance for heatstroke from May to September last year. Half of these were elderly people, but about 13,000 were minors age 7 to 17.
The Education, Culture, Sports, Science and Technology Ministry in May issued a notice about preventing heatstroke-related accidents, calling on schools to make sure to provide sufficient water and salt.
The meteorological agency has predicted hot and humid weather starting in late July. "The body has trouble coping when it suddenly becomes hot. Early July has been cool, so people need to take extra care this year," an agency official said.