News
2019-07-21
Japan Clinches 43rd USA vs. Japan Collegiate All-Star Series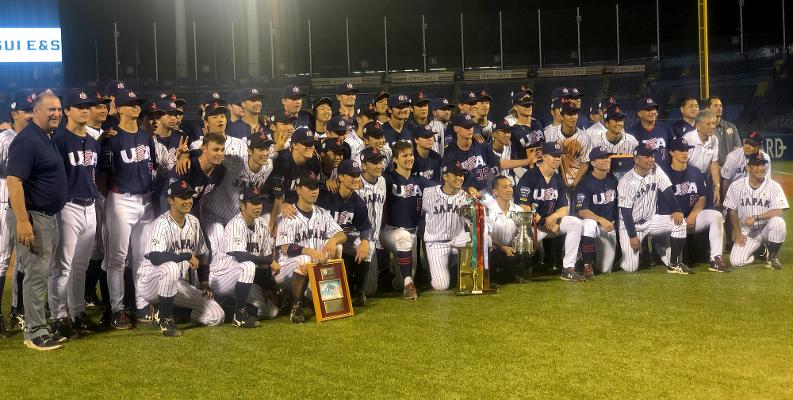 1 2 3 4 5 6 7 8 9 R H E
USA 0 0 0 0 0 1 0 0 0 1 4 1
JPN 1 0 0 3 0 0 2 0 X 6 9 2
Win: Morishita (2-1) Loss: Nikhazy (0-1)

TOKYO  July 21, 2019  - Japan ace Masato Morishita threw five scoreless innings to lead Japan to a 6-1 win at Meiji Jingu Stadium in Game 5 of the 43rd USA vs. Japan Collegiate All-Star Series and clinch the series 3-2. Japan won the series for the 16th straight time on its home soil over the last 40 years.
"We lost to a really good team and a great baseball country," said Collegiate National Team manager Dan McDonnell (Louisville). "But we came here expecting to win. So it hurts."
Morishita started for the third time in the series and allowed only one hit in the five scoreless innings to claim MVP honors. The right-hander started Game 1, Game 3, and Game 5, allowing only two runs in 15 innings for a 1.20 ERA and .151 batting average against. Morishita threw 195 pitches in the series.
Japan gave Team USA a big blow in the fourth inning, scoring three times with two outs to take a 4-0 lead. Takashi Umino had a two-out, two-RBI double and Kazuya Maruyama tripled on the next pitch to bring him home.
"Obviously, that wasn't the way we wanted the series to go," said Alika Williams. "I had the time of a lifetime over here but we came here to do something and we didn't do it."
Williams led Team USA with a .313 batting average and five hits in the series.
The Collegiate National Team completed its season with an 8-6 record, including series wins over Cuba and Chinese Taipei.
"We live in a great country," said McDonnell. "It was an honor to coach the 24 best players in our country."