News
2019-08-12
Fans at Koshien finding ways to beat the heat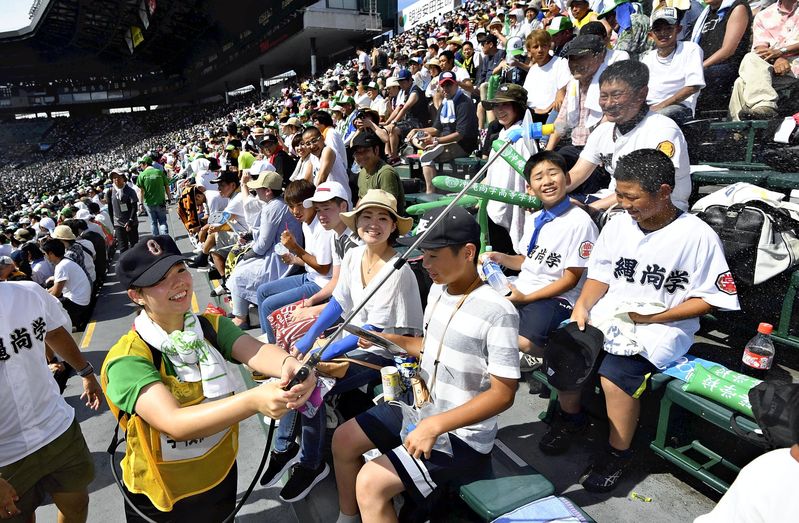 KOBE  (The Yomiuri Shimbun) — As hot as the action can be on the field, the soaring temperatures during the day can be dangerous for fans watching the games at the National High School Baseball Championship at Koshien Stadium in Nishinomiya, Hyogo Prefecture.
Amid the relentless heatwave, shops at the stadium began selling portable electric fans, cooling mist spray bottles and other items as part of efforts to prevent the crowd from suffering heatstroke.
The schools have also been playing a part, bringing containers of ice water into the stands to spray onto their supporters. In the dugouts, ice water is readily available for the players.
"There's no roof over the stands, so my face fries in the sun," said a 15-year-old high school girl from Kyoto, who had bought a portable fan a stadium shop on Thursday. "I wanted to have a fan."
The box-shaped Koshien Mobile Fan, selling for ¥2,300, is about the size of a folding wallet. It can be hung from the neck by a string, allowing the airstream from the top part to blow onto the face. As it is designed to be hands-free, users can play musical instruments or concentrate on cheering on their team.
Cold mist spray bottles, at ¥700, which cool off users by spraying water mist over their clothes, are also selling well, not to mention bags of kachiwari crushed ice, a speciality at Koshien Stadium.