News
2019-08-14
Historic International University Baseball Tournament in Vancouver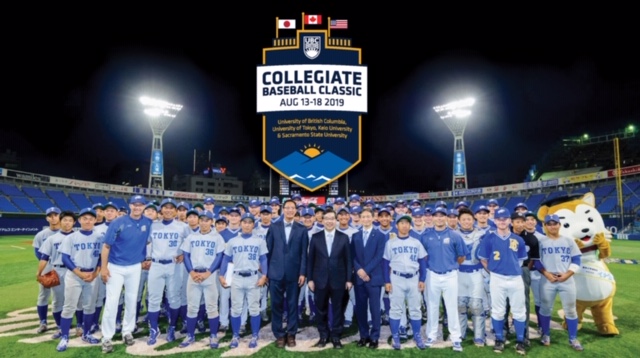 VANCOUVER – The University of Columbia (UBC) Thunderbirds hosts an historic international baseball tournament August 13-18, 2019.

The four-team tournament will be hosted primarily at UBC's Tourmaline West Stadium, but will also feature a premiere game at Scotiabank Field at Nat Bailey Stadium, home of the Vancouver Canadians.

On the heels of a highly successful UBC team tour of Japan last summer, the Thunderbirds are honoured to reciprocate by welcoming both the University of Tokyo and Keio University, both of which will become the first Japanese University teams to ever compete on Canadian soil. Joining the two Japanese visiting programs will be the Sacramento State University Hornets (NCAA Div. I).
The round-robin portion of the tournament will wrap up on Thursday, August 15th. The Friday will serve as an off-day from competition when all four teams will participate in a day full of cultural and sightseeing opportunities, showcasing the beautiful city the Thunderbirds call home.

"The tournament is much more than baseball games," added McKaig. "We are allowing the student-athletes from these four great universities to showcase the game of baseball through a blend of education and culture. The university presidents are committed to allowing these student-athletes a once in a lifetime experience to come to Vancouver to play baseball but to also learn through cultural experience about each country's sport, education and cultural differences. We are using baseball to build a bridge between Asia and North America for our student-athletes and fans."
Saturday, August 17th will feature both semifinal games with the tournament champions being crowned on Sunday, August 18th.
Single-game and tournament ticket packages are on-sale now with details and ticket links at gothunderbirds.ca/baseballclassic. Admission will also be available at the gate.

FULL SCHEDULE
Tuesday, August 13
Sacramento State vs Keio University – 6:30 p.m.
UBC vs University of Tokyo – 7:00 p.m. – Nat Bailey Stadium
Wednesday, August 14
Keio University vs University of Tokyo – 2:30 p.m.
Sacramento State vs UBC – 6:30 p.m.
Thursday, August 15
University of Tokyo vs Sacramento State – 2:30 p.m.
Keio University vs UBC – 6:30 p.m.
Saturday, August 17
Semifinal Game 1 – 2:30 p.m.
Semifinal Game 2 – 6:30 p.m.
Sunday, August 18
Consolation Final – 11:00 a.m.
Final – 3:00 p.m.