News
2019-09-13
Olympic Countdown event features Japan Women's Softball National Team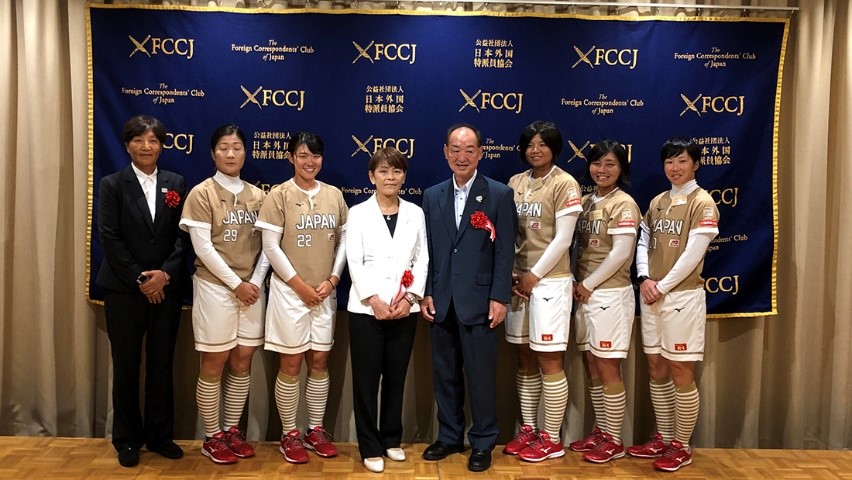 Members of the Japanese Women's Softball National Team starred in the "Countdown Night", a celebratory countdown to the 2020 Tokyo Olympic organized by the Foreign Correspondents' Club of Japan (FCCJ), in Tokyo on September 11, 2019.
President Peter Langan of FCCJ commented in his opening address that he wished baseball and softball, the most popular sports in Japan, U.S.A. and elsewhere, would be reinstated at the 2028 Los Angeles Olympic even though the both sports miss out at the 2024 Paris Olympic.
The President Hiromi Tokuda of the Japan Softball Association (JSA) responded by explaining softball is played by all ages and is growing steadily. JSA Vice President and legendary former manager Taeko Utsugi proposed toast with comments that JSA has been sending coaches and players to Asia and Africa and exchanged Memorandum of Understanding with French Baseball Softball Federation to jointly develop the sport.
The Japanese players headed by Team Leader Shinsuke Yabata and Head Coach Ms. Reika Utsugi made demonstration of their skills to the delight of over 100 attendees.
Women's softball is scheduled to spearhead 2020 Olympic on Wednesday 22 July, 9 a.m., at Fukushima Azuma Baseball Stadium, one day prior to the Opening Ceremony in Tokyo to symbolize reconstruction from the Great East Japan Earthquake on 2011. 3.11.