News
2019-10-11
Coordinator Manoj Fernando of Sri Lanka Baseball Honored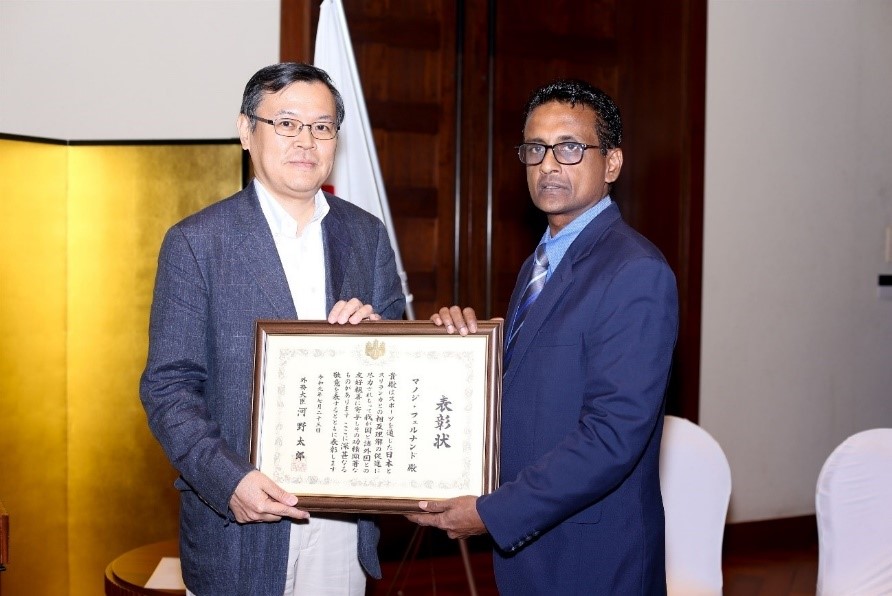 The Japanese Foreign Minister's Commendations 2019 was awarded to Mr. Kachchakaduge Manoj Caushalya Fernanodo, National Coordinator, Sri Lanka Baseball/Softball Association (SLABSA), by His Excellency Mr. Akira Sugiyama, Ambassador of Japan to Sri Lanka, at a special ceremony held on 9th October 2019 at the Ambassador's official residence in Colombo.

As a key person in the SLABSA, Mr. Fernando has actively engaged in promoting baseball in Sri Lanka over the last 35 years, most notably, by shaping the national team to excel in the international tournaments, as was seen in winning the West Asia Baseball Cup 2019 held at Japan-Sri Lanka Friendship Baseball Ground in Diyagama on July 20,, 2019. This was a two consecutive victory for the Sri Lankan national team in the West Asia Baseball Cup. In the process, Mr. Fernando worked closely with the Japanese baseball trainers dispatched in Sri Lanka as Japan Overseas Cooperation Volunteers (JOCVs) since 2002, through which, Mr. Fernando contributed greatly to strengthening friendship between Sri Lanka and Japan.
On the same occasion, Ambassador Sugiyama stirred the spirits of the members of the national team, by sending words of cheers and encouragement, who are participating in the 29th BFA Asian Baseball Championship, the preliminaries for the Tokyo Olympic Paralympic Games, to be held from 14th-20th October 2019 in Taiwan.

The Foreign Minister's Commendations are awarded to individuals and groups for their outstanding achievements in international field to acknowledge their contribution to the promotion of friendship between Japan and foreign countries.