News
2012-02-15
IBAF President Congratulates New Legal Status of the Largest National Baseball Body in Japan
Congress of Japan Rubber Baseball Association (JRBA) celebrates elevated status at Gala Dinner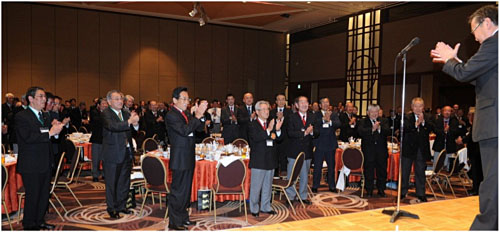 (Tokyo, February 15, 2012) Kazundo OHMORI, newly elected President of the JRBA at its Congress on February 15 pledged promotion of rubber baseball by rooting the sport deep in local community and developing it internationally under the newly acquired status as "Public Interest Incorporated Foundation". His predecessor, Hideo OKABE, was chosen Honorary President.

Congratulatory message by IBAF President Riccardo Fraccari was introduced at the Gala Dinner and enthusiastically received by over 200 guests and JRBA delegates representing more than 58,000 registered member teams throughout Japan. The Presidential remarks read:
The very positive news regarding the recently elevated legal status of the Japan Rubber Baseball Association has reached our federation, and for this, we would like to send our most enthusiastic congratulations on behalf of the International Baseball Federation to JRBA for being the first among baseball organizations in your country to receive this impressive recognition.
We realize it is quite an honor to reach the status of "Public Interest Incorporated Foundation", for it is the very status bestowed upon the Japanese Olympic Committee, and IBAF appreciates JRBA's continued support in our sport's Olympic reinstatement campaign.
With that said, we certainly feel your newly recognized status is well deserved, as JRBA is the largest national baseball federation in Japan, comprising well over one million registered players of all ages, and with many top baseball players in Japan having started out playing Rubber Baseball when they were very young.
The strong impact that Rubber Baseball has on baseball development worldwide is profound, and we certainly hope this trend continues to strengthen, especially as we have our eyes set on significantly expanding baseball in new and emerging territories such as Africa and the Middle East.
Further to the above, the news that JRBA and BFJ have agreed, in principle, for JRBA to become a member of BFJ in the very near future is most encouraging, as it could serve as a catalyst for various initiatives within the IBAF family.
Once again, congratulations on the new legal status, and we wish you well in building upon it.