News
2019-11-20
Keio Won 50th Meiji Jingu National Invitational Baseball Championship in Tokyo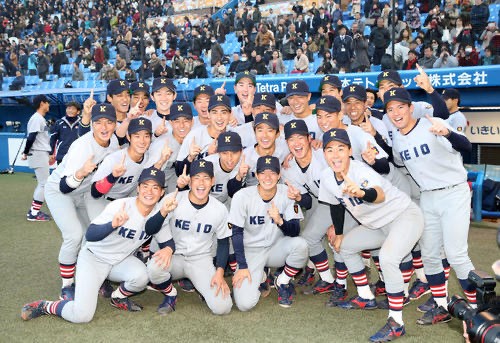 To mark the close of 2019 amateur baseball season in Japan, 10 regional high school champions and 11 university champions gathered to participate in the 50th Meiji Jingu (Shrine) National Baseball Championship at Meiji Jingu Stadium in Tokyo.

After the 5-day elimination tournament from November 11, Keio University (representing Tokyo Big-6 League) won against Kansai University (representing Kansai Big6 Baseball League) 8- 0 on November 20, their 4th win after 19 years at the Meiji Jingu National Invitational Baseball Championship.

In the high school division, Chukyo University Senior High School (Tokai Aichi Region) defeated Takasaki University of Health and Welfare High School 4 – 3, Chukyo's first win in their third appearance, and secured an additional spot in the 92nd National Invitational High School Championship at Koshien Stadium in Nishinomiya to be held for 13 days from March 19, 2020.