News
2019-12-04
Baseball: High school pitch limits tip of Japan's injury iceberg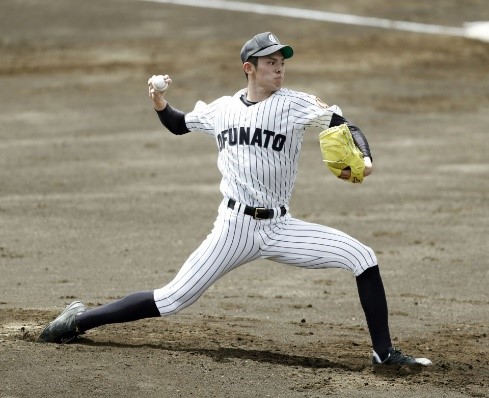 (KYODO – Dec. 3) Less than a year after Japan's National High School Baseball Federation criticized a local federation for announcing pitch limits, the national body itself implemented its own policy to curb pitching injuries.
The plan announced Friday will limit players to 500 pitches a week in all games organized by either the national federation or prefectural bodies, while tournament schedules will be fixed so pitchers cannot take the mound on three consecutive days.

In an era in which well-conditioned professional pitchers are put on a short leash after throwing 100 pitches, 500 may seem a ridiculously large figure to some. Japan Sports Agency chief Daichi Suzuki said on Nov. 20 he hoped the high school federation adopts stricter measures, but for the federation to budge at all represents a sea change in the domestic baseball landscape.
Last December, Niigata Prefecture wanted to stop pitchers from starting a new inning after throwing 100 pitches in its spring tournament. But the Niigata plan had to be shelved at the request of the national federation since the local body was acting on its own.
In the public debate that followed, however, the principle objections were not about procedure, but about how pitch limits would harm competition in an arena famous for pushing pitchers to their limits and beyond.
Epic high school pitching feats at historic Koshien Stadium just outside Osaka in the spring invitational and at the finals of the national championship have attained legendary status.
Stories like that of Sadaharu Oh pitching through a bleeding finger to help his team capture the 1957 invitational championship and Daisuke Matsuzaka throwing a 250-pitch complete game in the 1998 national championship quarterfinals before hurling a no-hitter in the final are etched in the national consciousness.
So this summer, when the hardest-throwing Japanese amateur of his generation missed the game his team had to win in order to advance to Koshien for the sake of protecting his arm, it became national news.
Roki Sasaki, a right-hander at Iwate Prefecture's Ofunato High School, grabbed the attention of scouts and agents worldwide when a fastball of his was clocked at 163 kilometers (101 miles) per hour at an April training camp.
But on July 25, a day after throwing 129 pitches and four days after a 194-pitch start, Sasaki was held out of Iwate Prefecture's championship game by manager Yohei Kokubo, who was being careful with the youngster's arm. Ofunato lost and Sasaki's dream of pitching at Koshien was over.
The skipper, who had played independent pro ball both in Japan and overseas, was praised for the courage it took to buck tradition, but was also roundly criticized for costing his school a chance to play at Koshien.
Fans nationwide were also anticipating the possibility of Sasaki repeating the 2018 championship's principle storyline.
That summer, Kosei Yoshida carried unfancied Kanaashi Nogyo to the Koshien championship, throwing 881 pitches over six games before wilting under the strain in his team's defeat in the final.
Yoshida's exploits were not lost on the young ballplayers of Japan -- even those who were then hospitalized after undergoing surgeries made necessary from throwing too much.
Kozo Furushima, the chief of Keiyu Orthopaedic Hospital's sports medicine center in Tatebayashi, Gunma Prefecture, told Kyodo News in February that compared to high schoolers, young ball players in elementary and junior high school are at far greater risk because their bones are not fully developed.
Furushima said pitching and practice limits are 100 times more important for younger players than high schoolers, but that kids were learning the wrong lessons from watching the games at Koshien.
"Watching him (Yoshida) was ominous for me," Furushima said.
"That happened during summer vacation, when I'm performing surgeries on lots of high school baseball players. They're all sitting on their hospital beds watching him pitch."
But while reformers like Furushima have long called for change to no visible effect, youth baseball organizers have this year begun implementing rules to protect children's health.
In February, the Japan Rubber Baseball Association announced a 70-pitch limit in its national tournament for elementary school students. The body plans to expand its rules next year to include junior high school and girl's tournaments, and is also eyeing practice limits.
Japan's Pony League quickly followed suit with an 85-pitch limit in its national hardball tournament for junior high school students.
Last month, the U.S.-based organization -- whose name is an acronym for "Protect Our Nation's Youth" -- announced clear guidelines to protect young pitchers' arms, including prohibiting players exceeding 50 pitches in a game from pitching the following day.
Advocates of the old ways argue that sports are meant to inspire and that being overprotective of youngsters' arms inhibits young athletes' ability to excel and achieve their dreams.
But Furushima said making heroes of the few who can survive hundreds of pitches over a few days encourages younger players to do likewise and risk devastating consequences.
"Because of what he (Yoshida) did, people will use him as an example," Furushima said.
"The media isn't going to talk about it, but there are certainly 1,000 kids trying to emulate him who will get hurt in the process and have to give up baseball because of him."