News
2019-12-24
WBSC Executive Vice President Tom Peng awarded prestigious Japanese Decoration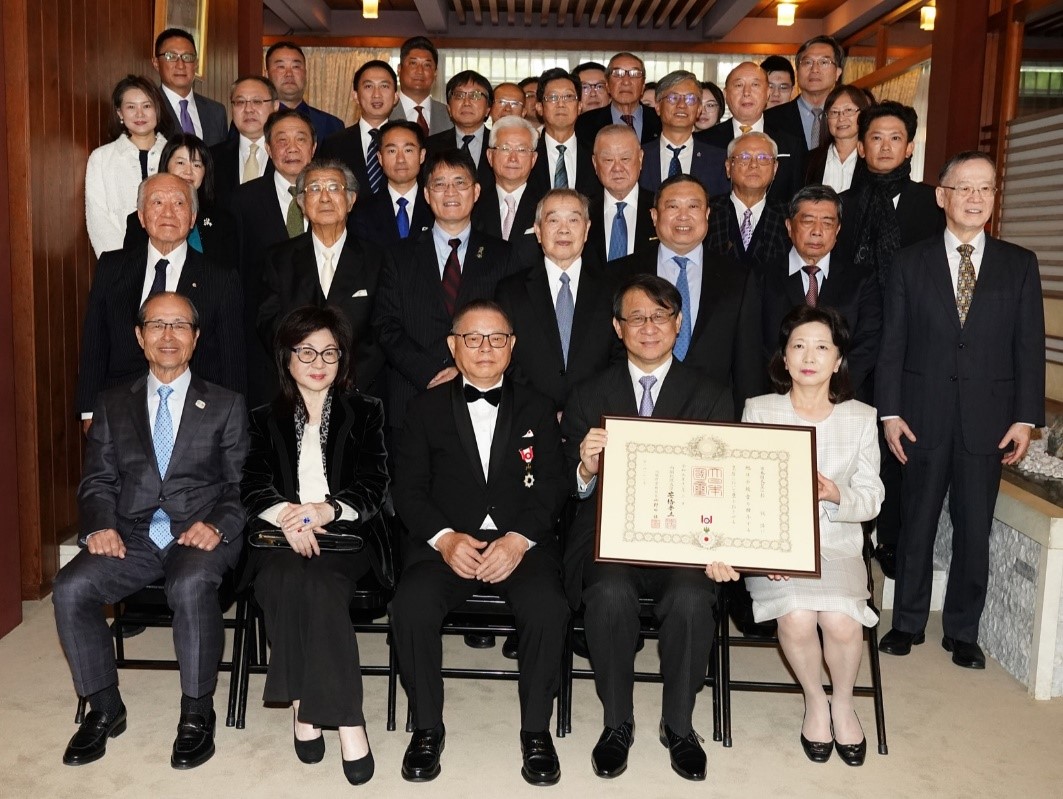 WBSC Baseball Executive Vice President Tom C.H. Peng, who is also the President of the Baseball Federation of Asia, was presented with The Order of the Rising Sun, Gold Rays with Rosette decoration by the Japanese government on Friday December 20, 2019, to honour his contribution in establishing and strengthening the friendship between Japan and Chinese Taipei with the promotion and exchange of baseball programmes.
On behalf of the Japanese Emperor, Japan-Taiwan Exchange Association Representative Hiroyasu Izumi presented the decoration to Peng, while world-renowned baseball legend Sadaharu Oh witnessed the award ceremony.
The Order of the Rising Sun, established in 1875 and first awarded to foreigners in 1981, was the first national decoration awarded by the Japanese government. It is bestowed upon individuals of merit, in recognition of their national or public services, and in honour of their distinguished accomplishments in various areas of society.
Peng, who first served as the delegation head of the Chinese Taipei team in 1983 in the Chinese Taipei-Japan-Korea Baseball Invitational, has devoted his life and career to baseball. He has served in various positions for more than three decades, including two terms as Chinese Taipei Baseball Association (CTBA) President starting in 1998, Chinese Taipei Olympic Committee Member and Vice President of the Baseball Federation of Asia (BFA). He was then elected President of the Baseball Federation of Asia and WBSC Baseball Executive Vice President.
Under Peng's leadership, CTBA and BFA hosted more than 50 international baseball tournaments and helped baseball grow as the most popular sports in Chinese Taipei. In addition to his endless effort to showcase local baseball talent on the international stage, Peng was also a long-term sponsor of his alma mater baseball team at the Chinese Culture University.
Peng accepted the decoration expressing his appreciation to baseball legend Sadaharu Oh, CTBA and his families for their full support over the past decades. "This decoration is not just for me, but honours all of you who supported me and baseball all these years," Peng said.
Oh also praised Peng as "a truly remarkable man, and a baseball purist who loves the game with endless passion and contributed to the development of baseball with his life."
The Japanese government awards are issued twice every year in the Spring and the Fall.
Tom Peng is the third person from global baseball circles by succeeding Mr. Raoul "Rod" Dedeaux (1914-2006) and Mr. Peter O'Marlley (1937- ), both of U.S.A. who were honored in 1996 and 2015 respectively.