News
2020-01-18
Japan tops latest WBSC Baseball World Rankings in Men's, Women's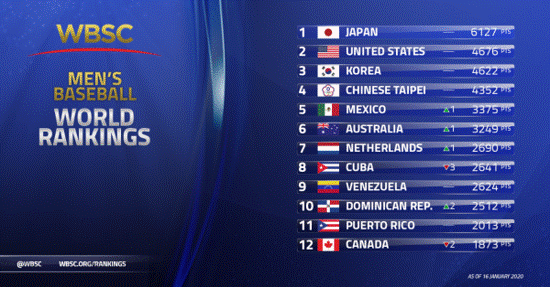 LAUSANNE, Switzerland; 16 January 2020 -- The World Baseball Softball Confederation today released the latest WBSC Baseball World Rankings, with Japan remaining the leading baseball nation across both the men's and women's categories.

Japan will head into the Tokyo 2020 Olympics this July-August as the top-ranked baseball nation in the world, with a commanding lead in the WBSC Men's Baseball World Rankings following a first-place finish at the flagship Premier12 last November.

Global Baseball Expansion - Boost from Africa and upcoming Olympic return

Ten new countries, led by seven from Africa, have entered the latest WBSC Men's Baseball World Rankings, which have expanded to include a record-high 85 nations and territories across the globe.

The newcomers to the WBSC Men's Baseball World Rankings include African nations Burkina Faso (57th), Ghana (T-73rd), Kenya (62nd), Nigeria (70th), Tanzania (T-73rd), Uganda (49th) and Zimbabwe (53rd). Oceania added two new representatives with Fiji (72nd) Palau (82nd), while Asian nation Bangladesh (79th) also made its debut in the world rankings.

Unprecedented international baseball activity took place across the African continent in 2019, as nations prepared for and attempted to qualify for the Tokyo 2020 Olympics.

WBSC anticipates further record numbers of participation following the recent announcement that mixed-gender five-on-five Baseball5 will be included at the IV Summer Youth Olympic Games 2022 in Dakar, Senegal, Africa.

The WBSC Men's Baseball World Rankings measure National Team performance -- from U-12 to Professional -- in WBSC-sanctioned international competitions over a four-year period.

Milestones in Women's Baseball

Following the historic launches of their national women's baseball programmes, Mexico (14th), Philippines (15th), China (16th), France (18th), Nicaragua (19th) and Czech Republic (20th) are all making their debuts in the WBSC Women's Baseball World Rankings.

Advancing through their respective continental championships, China, France, Mexico and the Philippines will also be making their first-ever appearances in the WBSC Women's Baseball World Cup 2020 this September in Mexico.

The latest WBSC Women's Baseball World Rankings have expanded to an all-time high of 20 nations and territories, following the incorporation of new and expanded women's baseball competitions, such as the Asian, European and Pan-American championships.