News
2020-02-02
Women's Baseball in France Invites Coaches from Japan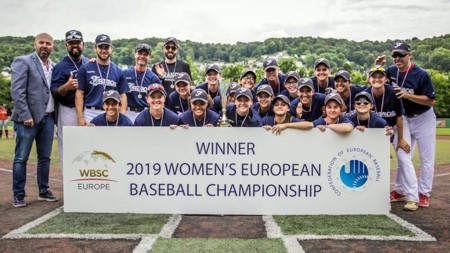 As a part of "Sports For Tomorrow" initiatives jointly implemented by the Japanese Government and the Baseball Federation of Japan, 3 Women's baseball coaches will tour to France at the invitation of French Baseball & Softball Federation (Didier Seminet, President).

34 candidates for French National Team of Women's Baseball World Cup in Monterrey, Mexico will assemble in Montigny district from February 8 to 11 for an intensive training session.

The unranked French National Women's Baseball Team went undefeated in the historic first-ever Women's European Baseball Championship, defeating world No. 11 Netherlands, 5-2, in the Final on 3 August, 2019. As the top team in Europe, the French squad will advance to the WBSC Women's Baseball World Cup of 12 teams — baseball's biggest event for women — in September, 2020 for the first time ever.

Women's Baseball Federation of Japan, the champion of 3 past world cups, will send Ms. SHIMURA Akiko, Ms. SATO Ayami and Ms.DEGUCHI Sayaka. The forthcoming Women's Baseball School by Japanese coaches follows the one in Taiwan and Indonesia.