News
2020-02-28
Venues and dates announced for 2021 World Baseball Classic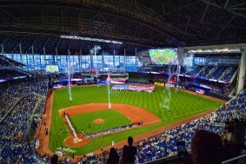 • (InsidetheGames -Thursday, 27 February 2020)
The 2021 edition of the World Baseball Classic will take place across the United States, Japan and Taiwan, it has been confirmed.
Four more teams have been added to next year's event, which will be the fifth edition in all, to take the total number up to 20.
Dates of between March 9 and 23 have also been announced, with the US set to host the final, semi-finals and two quarter-finals at Miami's Marlins Park.
One of the four five-team groups will also be played in Florida, at the home of Major League Baseball (MLB) outfit Miami Marlins.
Japan will host the remaining two quarter-finals and a group at Tokyo Dome, while Taiwan will stage a group across the Taichung Intercontinental Baseball Stadium and the Taoyuan International Baseball Stadium.
The remaining group will also be in the US, at MLB side Arizona Diamondbacks' Chase Field in Phoenix.
Group play will be staggered, with competition in Japan and Taiwan taking place between March 9 and 13.
Matches in Phoenix will be held from March 13 to 17 and games in Miami will be held from March 14 to 18.
The United States will defend the title they won in 2017 ©Getty Images
Tokyo's quarter-finals will be on March 16 and 17 with the last eight matches in Miami following on March 19 and 20.
The semi-finals and finals will take place between March 21 and 23.
All 16 teams who competed in the last World Baseball Classic in 2017 have been invited to return, with the US set to defend their title.
Two-time champions Japan and the Dominican Republic are the only other countries to have won the event, with both also among the field.
Australia, Canada, China, Chinese Taipei, Colombia, Cuba, Israel, Italy, The Netherlands, South Korea, Mexico, Puerto Rico and Venezuela are the other automatic qualifiers.
They will be joined by four teams who emerge from a qualifying competition to be held next month.
This will be hosted by the US at the Kino Sports Complex in Tucson, between March 12 and 25.
South Africa, France, Germany, Nicaragua, Brazil, Pakistan, Britain, New Zealand, Philippines, Czech Republic, Panama and Spain are all competing.
The World Baseball Classic is sanctioned by the World Baseball Softball Confederation, in partnership with the MLB.