News
2020-03-18
Record 86 nations in latest WBSC Baseball World Rankings

Japan, USA, Korea, Chinese Taipei and Mexico remain atop the baseball world rankings.
In Asia, China (22),Pakistan(27), Hong Kong(30) and Philippines (32) follow.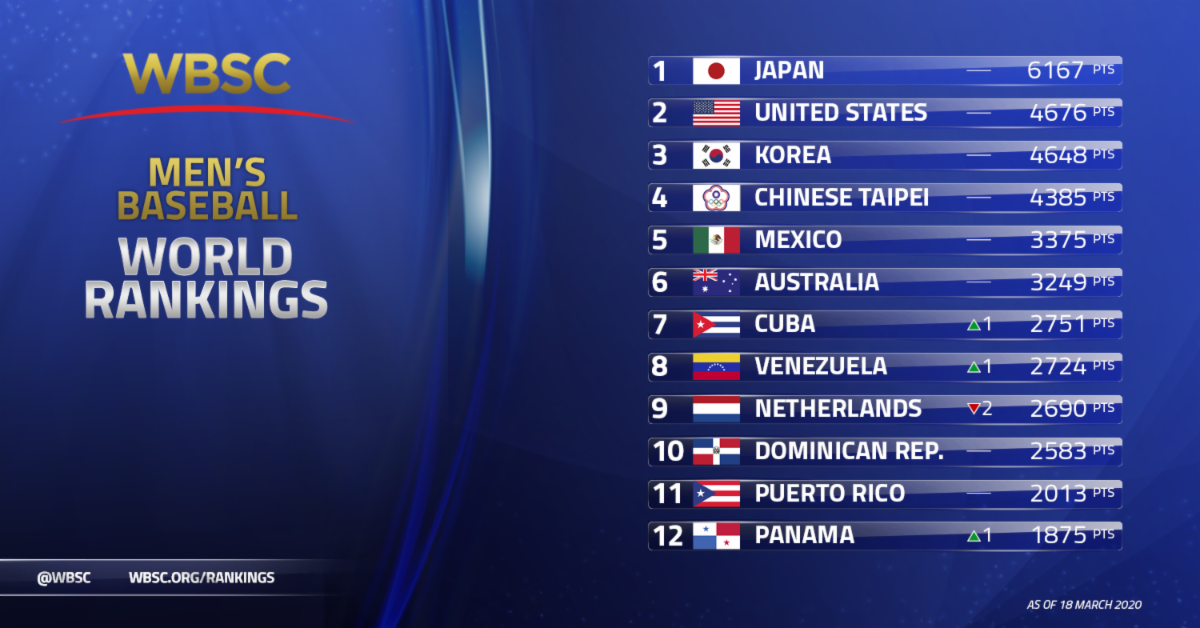 LAUSANNE, Switzerland -- 18 March 2020 -- The World Baseball Softball Confederation today published the latest WBSC Baseball World Rankings, which have expanded to a record high of 86 nations and territories across the globe.

The updated WBSC Baseball World Rankings include results from the Americas Qualifier for the WBSC U-23 Baseball World Cup 2020, won by Nicaragua, and the Oceania Qualifier for the WBSC U-15 Baseball World Cup 2020, won by Guam.

The Top 10

No. 1 Japan remains the top-ranked baseball country in the world, followed by No. 2 USA, No. 3 Korea, No. 4 Chinese Taipei and No. 5 Mexico.

No. 6 Australia remains the top team in Oceania.

Baseball hot spots No. 7 Cuba and No. 8 Venezuela each gained a position, moving ahead of Europe's top-ranked country, No. 9 Netherlands.

The Dominican Republic maintains its position at No. 10.