News
2020-04-27
USA:Cape Cod Baseball League cancels 2020 season due to coronavirus concerns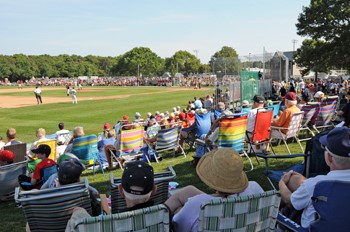 The nation's premier collegiate summer baseball league has canceled the 2020 season due to coronavirus concerns.
The Cape Cod Baseball League, which was founded in 1885, was about to enter its 135th season. The last time the league missed a season was 1945, the last year of World War II.

The CCBL's executive committee, made up of 27 members, voted unanimously to cancel the upcoming season amid the COVID-19 outbreak.
The league determined it would be impossible to guarantee the safety of its players, coaches, umpires, host families, volunteers and fans during the coronavirus pandemic.
"We would like to thank all our dedicated volunteers and sponsors for their support and look forward to playing again in 2021," reads a statement from the league. "Thank you for your continued support and stay safe and healthy."
College baseball players from around the country and from all NCAA divisions are recruited to play in the 10-team league, which is considered a pipeline of Major League Baseball talent.
According to the league's website, about 300 Cape Cod League alumni play in a given MLB season annually. More than 1,250 MLB alumni have played in the Cape League, including current Red Sox stars Chris Sale and Jackie Bradley Jr., as well as Boston baseball legends Carlton Fisk, Mo Vaughn, Nomar Garciaparra and Jason Varitek.
The league, which is a nonprofit organization, operates primarily with volunteers and has since its inception.
"The primary concern was always safety for our beloved Cape, players, coaches, batboys, host families, volunteers, merchants, sponsors, employers, suppliers and residents," reads a letter written by CCBL Commissioner Emeritus Paul A. Galop. "The list of concerns was endless, but this priority was always of utmost importance."
The Cape League's current list of franchises includes the Bourne Braves, the Brewster Whitecaps, the Chatham Anglers, the Cotuit Kettleers, the Falmouth Commodores, the Harwich Mariners, the Hyannis Harbor Hawks, the Orleans Firebirds, the Wareham Gatemen and the Yarmouth-Dennis Red Sox.