News
2020-05-11
BFA to Host U-18 Asian Championship on September 6-12 in Kaohsiung, Taiwan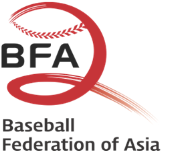 The XIII BFA U18 Baseball Championship will see 8 teams compete and this tournament will be held from September 6-12, 2020 in Kaohsiung, Taiwan. Those National Federations who intend to participate are requested to inform Mr. Tim Tseng, Secretariat of BFA no later than May 20 by referring to the tournament rules.

In accordance with article A3.4 of the rules, "The participating team's official Delegations will be composed of: 18 Players, 4 Coaches including Team Manager, 1 Delegation Leader, 1 Team Doctor/ Physiotherapist and Max. total of 24. Any other extra persons will be at the delegation's expense.

For the XIII BFA U18 Baseball Championship , an eligible player must turn 16-18 yed by December 31, 2020 (born in 2002 to 2004).