News
2020-05-30
NPB considers tough quarantine measures to fight virus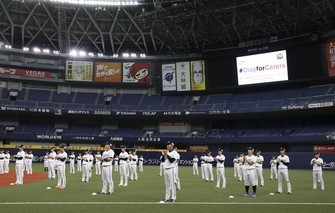 TOKYO (Kyodo) -- Nippon Professional Baseball is considering strict quarantine measures in its guidelines for dealing with the novel coronavirus when its regular season starts on June 19, an official with knowledge of the matter said Friday.
Among the proposals would be for those whose PCR tests come back positive to self-quarantine until 14 days after they produce a negative test result. Those deemed to have come into close contact with someone testing positive will be quickly isolated from their teams.
Those living with family members testing positive apparently will also need a 14-day quarantine. Likewise, if anyone living in the same home feels unwell, the player or staff member will apparently be asked to stay home for seven days even if those concerned test negative or a doctor believes a test is unnecessary.
Spitting on the field, high-fives, shaking hands, and the practice of huddling up before games or a team's at-bat could all be banned. Umpiring crews may be fixed five-man units to prevent intermingling, while the home plate umpire could be required to wear a surgical mask at all times.
Members of the media could be asked to socially distance from one another within areas designated for them, and will not be allowed on the field or in dugouts or to walk alongside players.
Once the guidelines for regular season measures are compiled, they will be published after coordination with the players union.