News
2020-06-10
Dejected high school teams get new chance to play at Koshien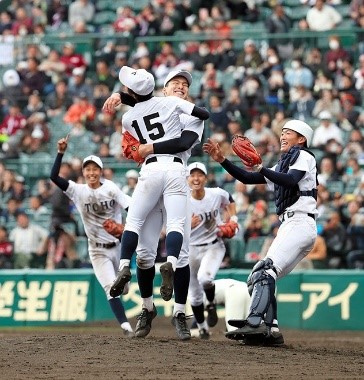 The 32 high school baseball teams whose dreams of playing on the hallowed ground of Hanshin Koshien Stadium in spring were dashed by the novel coronavirus pandemic will get a second chance.
The Japan High School Baseball Federation announced on June 10 that the 32 teams will be invited to play over a six-day period in August at the stadium in Nishinomiya, Hyogo Prefecture.
The teams had planned to compete in the National High School Baseball Invitational Tournament in spring, but organizers on March 11 canceled the tourney over fears of a spread of COVID-19.
The games in August will be played without fans in the stands to reduce the risk of infections.
Each team will play only one game, and a maximum of three games will be held on any one day.
A committee that includes experts on infectious diseases will be set up to decide on measures for organizing the event.
The teams will have until June 30 to decide whether they want to take part. The drawing for the games will be held on July 18 using a videoconference of the 32 team captains.
The federation will host the event with the backing of The Asahi Shimbun and The Mainichi Shimbun.
The summer tournament at Hanshin Koshien Stadium involving 49 prefectural representative schools was also canceled on May 20.
Concerns were raised about the possibility of infections because some teams would have to travel long distances to get to Hanshin Koshien Stadium and stay together at lodgings for an extended period.
When he announced the cancellation of the spring tournament, Eiji Hatta, the federation chairman, said he wanted the players on those 32 teams to somehow get on the ground of the stadium.
That led to consideration of an alternative event.
The decision to hold the special games in August was made after the state of emergency for the novel coronavirus was lifted for the entire nation and senior high schools resumed classes and baseball practice.
The August event will be easier to hold than the regular summer tournament, which involves prefectural tournaments to determine the teams that will play at Hanshin Koshien Stadium.
With each team scheduled to play only one game, the players would not be confined together in a hotel for a long period.
Moreover, teams from areas including and west of the Kanto region will travel to Nishinomiya by charter bus to avoid the higher risk of infections on public transportation.