News
2012-04-05
Osaka Toin victorious in Senbatsu high school baseball tournament - Japan
28 Players Selected as First Candidates to 2012 IBAF AAA Championship in Seoul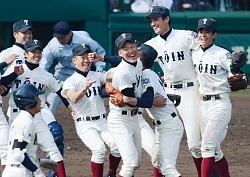 April 05, 2012 (The Mainichi)

NISHINOMIYA, Hyogo -- The boys of Osaka Toin Senior High School are going home happy after sending Kosei Gakuin High School down to defeat 7-3 in the final game of the National Invitational High School Baseball Tournament on April 4.
Kosei Gakuin, from Aomori Prefecture, was appearing for the sixth time in the spring baseball tournament, and had been hoping to be the first team from the northern Tohoku region to take home the championship. Osaka Toin, making its fifth appearance at the invitational, had other plans, looking to become the first Osaka-area team to win the competition in 19 years.
This year's tournament -- popularly known as "Senbatsu" -- featured four schools from the disaster-devastated Tohoku region, including Miyagi Prefecture's Ishinomaki Technical High School, which suffered terrible damage in the March 2011 tsunami.
During the tournament's opening ceremony on March 21, Ishinomaki team captain Shoto Abe vowed to "deliver inspiration, courage and smiles" through his team's appearance at the tournament, moving many in the stands at tournament venue Koshien Stadium.
(Read the full story at The Mainichi)

After the close of the Championship, Japan High School Baseball Federation announced 28 players as candidates to the 25th IBAF AAA (18U) Championship in Seoul, including Pitcher Shintaro Fujinami of Osaka Toin and Catcher Katsushi Nakamichi of Chiben Gakuen Senior High. Both players represented Japan at the 2009 IBAF AA (16U) Championship in Taiwan and Nakamichi was chosen as a member of All Stars, By adding other players, the final 18 players will be announced after the completion of 94th National Championship at Koshien Stadium late August.