News
2020-08-17
Tokyo Big-6 University League Honors late MAEDA and ISHII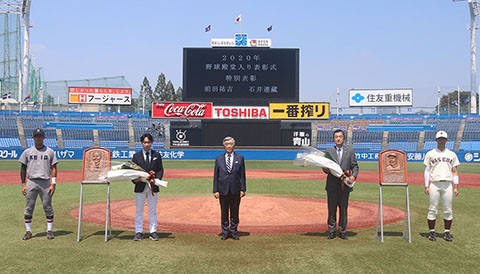 On Saturday, August 15, the award ceremony for the late MAEDA Yukichi (1930-2016) and late ISHII Renzo (1932 -2015) was held by the Japanese Baseball Hall of Fame at Meiji Jingu Baseball Stadium was held prior to the baseball game between Keio University and Waseda University.

Three new members of the Japanese Baseball Hall of Fame, MAEDA Yukichi (1930 - 2016), ISHII Renzo (1932 - 2015) and TABUCHI Koichi (73), were announced on January 14 as the Class of 2020. MAEDA and ISHII were voted in by the Special Selection Committee, which considers those from amateur baseball, and TABUCHI was elected on the Experts Division ballot. No one was chosen from the Players Division.

MAEDA won the Tokyo Big 6 League title three times as a player at Keio University. He later managed the team from 1960-65 and again 1982-1993. He served as Secretary General of Baseball Federation of Asia from 1997 to 2006 after working with Baseball Federation of Japan 1994-96.

He visited Asian countries frequently to develop baseball to donate equipment, help organize national bodies in their infancy and coached young players during his eight-year tenure in BFA and BFJ. His travels extended to Dubai, Mongolia, Sri Lanka, Thailand, Philippines, Hong Kong and many others and contributed to cement close ties among BFA member countries.

ISHII won the autumn league title of the Tokyo Big 6 League as Waseda University's captain and later coached at the school. After leaving in 1963, he returned as manager in 1988. He led the school to the spring title in 1990 before retiring in 1994. As a reporter of The Asahi Newspaper, he was instrumental to the founding of Japan-USA Collegiate Baseball Championship in 1972 which counts as the 43rd in 2019.

From professional category, TABUCHI Koichi was also inducted hit .260 over his career and drove in 1,135 runs and retired with 474 home runs and is currently 11th on NPB's career list. He was known for hitting majestic homers, even at Hosei University of Tokyo Big 6 League, and was nicknamed the "Home Run Artist." "His home runs were long and just had a beautiful arch to them," said former Hosei teammate YAMANAKA Masatake, a fellow Hall of Famer and current president of Baseball Federation of Japan.