News
2020-08-31
Tokyo Big-6 University League to host Autumn Season with Cheering Squad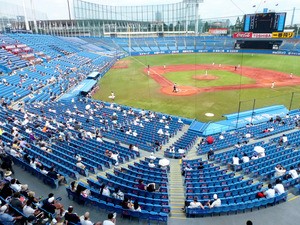 Tokyo Big-6 University League hosted its 2020 "Spring Season" by limiting 3,000 spectators for each game which is about 10% of 34,000 capacity of the Meiji Jingu Stadium in Tokyo from August 10 to 18 in the extreme heat with single round-robin contest. All the other 25 University Baseball Leagues in Japan cancelled their Spring Season.

At the Tokyo Big-6, popular cheerleading squads of each university had to stay out of the Stadium but their performances were projected on the center-field screen. The "Spring Season" had been originally scheduled to start in April but was delayed to August owing to uncertainty over the COVID-19 pandemic.

The Tokyo Big-6, the longest running baseball league in Japan dating back to 1925, comprises six prominent universities in Tokyo, Japan; Waseda, Keio, Meiji, Hosei, Tokyo and Rikkyo A total of about 800 players live in the training camps of each baseball club. To ensure safety of the event, extensive preventive measures were taken both inside and outside of the ballpark.

The 2020 Autumn Season is scheduled to open on September 19 by way of double round-robin contest under similar restrictive measures to the Spring Season, except the possible participation of the cheerleading squads including band members in the bleachers.