News
2020-10-15
Supercomputer to test virus risk at near-capacity baseball stadium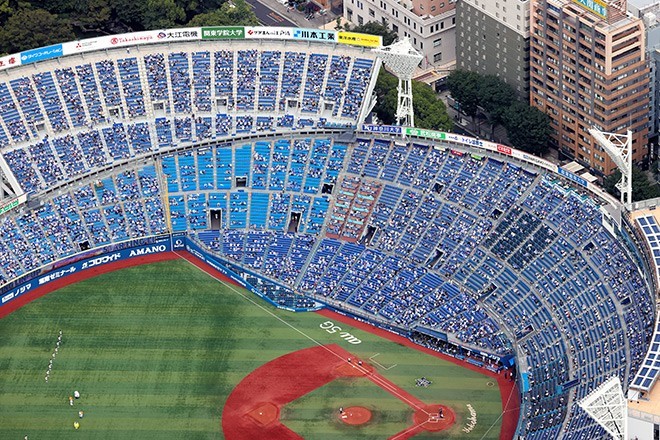 (THE ASAHI SHIMBUN October 15) Tens of thousands of baseball fans and Japanese supercomputer Fugaku will be involved in a study on the effectiveness of anti-virus measures at a stadium with a near-capacity crowd.
Local government officials hope the results will provide useful information in deciding when to ease entry restrictions for large events or crowded venues, such as athletic competitions and night clubs. The central government has asked for these voluntary restrictions to curb the spread of the novel coronavirus.
The verification test will be conducted at the Yokohama DeNA BayStars' home games scheduled between Oct. 27 and Nov. 1 at Yokohama Stadium in Kanagawa Prefecture, according to government sources.
The prefectural and city governments will conduct the test with companies and groups, such as DeNA Co., NEC Corp. and Line Corp.
Officials explained the plan and sought opinions from experts at an Oct. 15 meeting of the central government's council on dealing with the novel coronavirus.
Officials expect to fill at least 80 percent of the 34,000-seat stadium for the ballgames. The spectators will be informed about the test to a certain degree.
During the games, multiple high-definition cameras will examine the movements of people inside the stadium, the density and the percentage of people who wear masks.
The data will be combined with the results simulated by Fugaku, one of the world's best-performing supercomputers.
The analysis will show, for example, how saliva droplets spread when spectators wearing masks yell out, eat and drink, among other activities.
During the games, announcements and security guards will encourage the fans to wear masks. Officials involved in the test will rate the effectiveness of such measures.
COVID-19 contact-tracing apps, such as COCOA introduced by the health ministry, and the Line messaging app will be used to identify people who come in close contact with someone who is later confirmed to be infected.
The officials will also work to ensure smooth communications and coordination between event organizers and public health centers.
Satoshi Hori, a professor of infection control at Juntendo University, said similar verification tests have been conducted at concerts and other events overseas.
Hori said it is important for officials and event organizers to "take measures and urge elderly people and those with pre-existing conditions, who are at higher risk of developing severe symptoms once they contract the virus, to refrain from entering a venue."
Under the central government's guidelines, venues for sports competitions and music concerts with crowd numbers expected to exceed 10,000 should keep capacity at only 50 percent.
Similarly, events at venues with a capacity under 10,000, such as night clubs and movie theaters, should limit the number to a maximum 5,000.
That measure is expected to remain until the end of November.
The central government has eased restrictions on certain events, such as a Kabuki play, an art exhibition and a film screening.