News
2020-10-26
Death of IOC Honorary Member Lee Kun-hee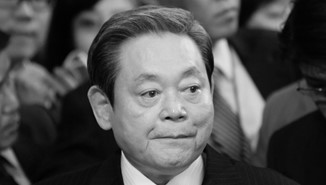 It is with great sadness that the International Olympic Committee (IOC) has learnt of the death of IOC Honorary Member Lee Kun-hee, at the age of 78.
The Chairman of the Samsung Group since 1987, Mr Lee was responsible for growing the company from a local business in the Republic of Korea into one of the global leaders in technology and a Worldwide Olympic Partner.
IOC President Thomas Bach said: "Lee Kun-hee made a great contribution to the Olympic Movement and the success of the Olympic Games by not only making Samsung a TOP Partner of the IOC, but also by promoting the Olympic Games worldwide and by fostering the bond between sport and culture. This Olympic legacy of Lee Kun-hee will continue to live on. To commemorate him, the IOC will fly the Olympic flag at half-mast in Lausanne."
The son of Samsung founder Lee Byung-chull, Mr Lee joined the group in 1968 as an Executive Director of Joong-Ang Daily News and Tongyang Broadcasting Corporation after completing an economics degree at Waseda University in Tokyo, Japan, and an MBA at George Washington University in the US. He moved to the role of Vice-Chairman of the Samsung Group in 1978.
Mr Lee also held a number of distinguished positions in the Republic of Korea, such as Vice-Chairman of the Federation of Korean Industries (since 1987), Vice-Chairman of the Korea-Japan Economic Committee (since 1981), member of the Korea-US Wisemen Council (since 1991), Director of the Korean Youth Association (since 1982), and Vice-Chairman of the Korean Alumni Reunion of Waseda University (since 1997).
One year after Mr Lee's rise to the position of Chairman, Samsung began its legacy with the Olympic Games as a local sponsor at Seoul 1988. With the Olympic Winter Games Nagano 1998, the partnership elevated to the worldwide level, which continues to today.
Starting with the Olympic Winter Games PyeongChang 2018, Samsung expanded its Olympic partnership category from Wireless Communication to include Computing Equipment, enhancing its commitment to the Olympic Movement.
Mr Lee practised wrestling as his sport of preference and was President then Honorary President of the Korean Amateur Wrestling Federation from 1982 to 1997. In this capacity, he was also a member of the Korean Olympic Committee, later becoming Vice-President (1993-1996) then Honorary President.
Mr Lee was elected as an IOC Member in 1996 – joining the Cultural (1997) and Finance (1998-1999) Commissions – and became an IOC Honorary Member in 2017.
He was the recipient of several national athletics awards, the Olympic Order (1991), the Légion d'Honneur of the French Republic (2004), and the "Van Fleet Award" from Korea Society in New York (2006).
The IOC expresses its deepest sympathies to Lee Kun-hee's family. As a mark of respect, the Olympic flag will be flown at half-mast at Olympic House.