News
2020-11-01
Swimmer Suzuki suddenly drops plan to run for Chiba governor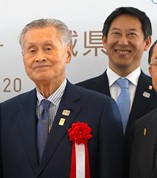 In a stunning reversal, Olympic gold medalist Daichi Suzuki has suddenly dropped his plans to run for governor of Chiba, senior officials of the Liberal Democratic Party's Chiba prefectural chapter said on Oct. 29.
The announcement came only days after Suzuki, 53, told high-ranking local party officials that he planned to run under the party's banner.
Suzuki initially told Hiromichi Watanabe, a Lower House member who heads the Chiba LDP chapter, that he was interested in running in the gubernatorial election scheduled for next spring, according to the officials.
But former Prime Minister Yoshiro Mori, president of the 2020 Tokyo Olympic and Paralympic organizing committee, opposed the candidacy of Suzuki, who won a gold medal in the men's 100-meter backstroke at the 1988 Seoul Games and is the former commissioner of the government's Japan Sports Agency.
He expressed his opposition to Watanabe and other LDP members at a 4 p.m. meeting on Oct. 28 at the organizing committee's office in the capital.
"Politicians need to overcome a big challenge: elections," Mori, an LDP heavyweight, was quoted as saying by the officials. "But he (Suzuki) knows too little about elections. He is unfit (to be governor)."
Mori made the comment apparently with Junichi Ishii, an Upper House member of the chapter, in mind. Among the 18 Diet members in the chapter, Ishii is the only one who clearly expressed disagreement with the chapter's plan to back Suzuki's candidacy.
But Ishii also told the chapter that he would not take actions that go against the wishes of the party, meaning he would not oppose the plan as a member of the chapter. That made Watanabe believe his chapter had approved the plan unanimously, giving him the confidence to bring members of the chapter together to rally behind Suzuki.
"Both the LDP (chapter) and Chiba prefectural assembly members are united (in backing Suzuki in the election)," Watanabe insisted at the meeting with Mori. "We are ready for the election."
But Mori remained adamant.
"He is an Olympic medalist and served as the first commissioner of the JSA," he said. "We can't let him enter the race as the environment is not perfect for him."
After the meeting, Suzuki, who also joined Watanabe and others in the middle of the meeting, told Watanabe over the phone that he will withdraw his candidacy of his own will and apologized for the about-face, according to the officials.
Suzuki is said to owe a great deal to Mori, who worked hard to help him become the JSA's first commissioner.