News
2020-11-25
International Free Agent Profile: RHP Kohei Arihara
The controversial 2015 Pacific League Rookie of the Year Award is looking to play baseball in the United States after six up-and-down seasons with the Fighters.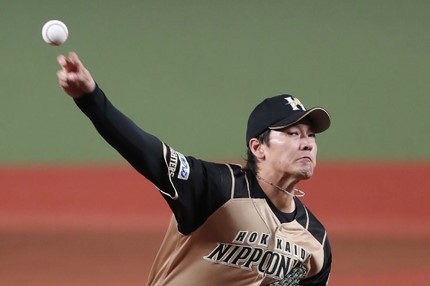 Nov 24, 2020,Kohei Arihara, who will be posted this offseason, was born on August 11, 1992, in Hiroshima, Japan. He attended Koryo High School, a private school in Hiroshima's suburbs where he emerged as the school ace in his second year. After graduating, he attended Waseda University, one of the oldest and most prestigious universities in Japan, along with the other member teams of the Tokyo Big6 Baseball League, Hosei University, Keio University, Meiji University, Rikkyo University, and the University of Tokyo. Over the course of his career there, he appeared in 62 games and threw a total of 271 innings, posting a cumulative 2.72 ERA with 210 strikeouts.
The right-hander was selected in first round of the 2014 NPB Draft by the Yokohama DeNA BayStars , Hiroshima Toyo Carp, Hanshin Tigers , Hokkaido Nippon Ham Fighters, with the rights to negotiate with him ultimately being won by the Fighters in a special draft lottery. He eventually signed with the team and was set to join an already strong pitching rotation consisting of veteran Mitsuo Yoshikawa, foreign import Luis Mendoza, and wunderkind Shohei Ohtani. Unfortunately, fate initially intervened, as elbow pain in his pitching elbow delayed his season debut by a month. All in all, he appeared in 18 games and pitched 103.1 innings, posting a 4.79 ERA with 113 hits allowed, 32 walks, and 81 strikeouts. Despite an ERA well over the league average and solid-if-uninspiring peripherals, Arihara won the 2015 Pacific League Rookie of the Year Award with a plurality of the vote, beating out teammate Akihiro Hakumura, Seibu Lions right-hander Kona Takahashi, Chiba Lotte Marines infielder Shogo Nakamura, and Fukuoka Softbank Hawks right-hander Akira Niho. The right-hander was cognizant that his numbers were underwhelming, and in his acceptance speech for the award, said that he would endeavor to be more worthy of an award that he didn't deserve to win.
Arihara was much improved in 2016. In 156.0 innings, the 23-year-old had a 2.94 ERA, allowing 150 hits, walking 38, and striking out 103. The steps forward that he took was a major reason why the Fighters went 87-53 in the regular season and eventually returned to the Japan Series, the first time since 2006. After losing the first two games, the Fighters rebounded and won their next four, winning their first championship in ten years.
The right-hander was unable to keep that positive momentum going, and he regressed heavily in 2017, posting a 4.74 ERA in 169.0 innings, allowing 194 hits, walking 39, and striking out 88. He had a very similar season in 2018, posting a 4.55 ERA in 110.2 innings, allowing 124 hits, walking 15, and striking out 87. He finally got off the schneid in 2019; In 164.1 innings, he had a 2.46 ERA, allowing 111 hits, walking 40, and striking out 161. Scouts and evaluators credited his success to two factors: recurring shoulder inflammation that bothered him during the 2018 season calmed, and he finally learned how to pitch, working with teammates and coaches to improve his individual pitches and optimize pitch selection and combinations.
In December 2019, the Arihara announced that he was interested in being posted at the conclusion of the 2020 season. At a press conference held after contract negotiations between himself and the Fighters, Arihara told the assembled press that he "had that thought in mind when I joined the team and this year, I formally relayed that. Next year, I want to challenge the other side," alluding to Major League Baseball.
Arihara had experienced success in the past but was unable to sustain it, so the 2020 season would be a big test. Not only would he be attempting to show that the steps he took forward in 2019 were real to his peers, but he would be showcasing himself to MLB scouts and evaluators. While the coronavirus pandemic delayed the start of the 2020 season, Arihara was eventually able to get back on the field when the season began in June and demonstrated that the improvements he made in 2019 were real. In 127.2 innings, the right-hander posted a 3.52 ERA, allowing 122 hits, walking 28, and striking out 104.
The 28-year-old has a solid pitching frame, standing 6'2" and weighing 210 pounds. He throws from a low-three-quarters arm slot, incorporating a slight pause at the high point of his leg lift as is typical for most Japanese pitchers. His fastball sits in the low-to-mid-90s, toping out at 96 MPH. Unusual for a Japanese pitcher, he throws a fair amount of two-seam fastball, throwing roughly 10% fewer four-seam fastballs in 2019 and 2020 and replacing them with as many two-seam fastballs.
Arihara complements his fastball with a wide assortment of pitches, throwing a changeup, cutter, slider, curveball, and splitter. His changeup is his go-to secondary pitch, thrown roughly 20% of the time. Right-handed veteran pitcher Chihiro Kaneko, known for possessing perhaps the best changeup in the league currently, joined the Fighters in 2019 and worked with Arihara to further develop his. The results have been tangible, as the pitch has become Arihara's most effective offering, also one of the best in the league. Improvements to his slider and splitter, both thrown roughly 10% of the time, and the almost total elimination of his cutter, have also been a major reason why the right-hander has reestablished himself as a dependable member of the Fighters' rotation. He commands all of his pitches well and unintentionally walks very few batters.