News
2020-12-01
Baseball growing in the highest country in the world: Bhutan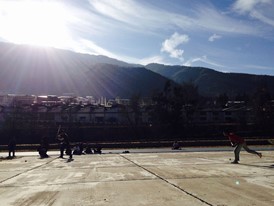 Baseball and softball were brought to the Himalayan state in 2013, and 2021 could be a key year for the growth of the sport in the country, which shares borders with India and Tibet.
Baseball and softball games have been popping up in all parts of the world in recent years, highlighting the sport's steady growth into a global phenomenon.
The latest development in the evolution of baseball and softball is that they have been gaining attention in the highest country on earth, Bhutan, as per the National Daily Kuensel's recent article titled "Baseball is the new sport in Bhutan." The small Himalayan country, which has an average elevation of 3,280 meters (10,761 ft.) and shares borders with Tibet and India, has just over 750,000 inhabitants and 800 of them are now playing the game.
Baseball and softball were introduced in Bhutan in 2013 thanks to the contribution of former international athlete Karma Dorji and Matthew DeSantis, an American who co-founded the community association that now rules the sport.
The development of baseball and softball in Bhutan was helped by the country's National Olympic Committee and the Japan International Cooperation Agency (JICA).
The first league was founded in 2014 and consists of three teams BCCB, Due Ten Du Pawos and Druk Minups. BCBB is the reigning champion.
Next year is set to be a key period for baseball and softball development in Bhutan. Play Global, a non-profit organization from the United States, will organize a camp for players and coaches. The first Interschool Championship is also planned for next year.
Bhutan is also in conversation with the Bangladesh National Baseball Team to organize friendly games.
For more information, visit www.bhutanbaseball.org.