News
2012-05-16
Interview with Justine Siegal, Chair of the Women's Development Commission
Topics covered include the Women's Development Commission, the V Women's Baseball World Cup, Baseball for All and the State of Women's Baseball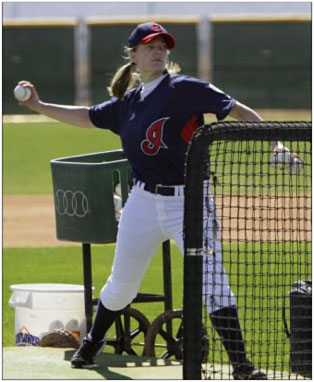 IBAF.org had a chance to do an interview with Justine Siegal, talking about various topics. She has been appointed as chair of the Women's Development Commission at the International Baseball Federation (IBAF) to advise the IBAF Executive Board on the policy to promote women's baseball. She is also a member of the Athletes Commission. This summer she is going to be the chair of the Technical Commission during the V Women's Baseball World Cup in Edmonton, Canada (August 10 to 19).

IBAF: Congratulations to being appointed chair of the IBAF Commission for the development of Women's Baseball. What are your goals in short and long term?

Justine Siegal: I'm much honored to be chosen as the Chair of such a fantastic commission. I work with incredible people: Narelle Gosstray, Hiroko Yamada, Robin Wallace, and Andre Lachance. Our goal is to develop baseball for girls and women around the world. At the moment, we are preparing for the V Women's Baseball World Cup. At the WWC, we are planning to host a developmental seminar for Federation members to learn how to build baseball programs for girls and women in their own countries. We would like to see Federations host their own national championships and regional tournaments. We must work together to be successful.

IBAF: What are your expectations for the upcoming V Women's Baseball World Cup in August?

Justine Siegal: I expect the V Women's Baseball World Cup to show the best women's baseball ever played. Competition will be fierce. National teams just keep getting better and better each year. The World Cup will be exciting!

IBAF: Currently IBAF is only running one senior female competition, as head of the respective IBAF Commission do you think it makes sense to create a youth tournament?

Justine Siegal: I would love to see a youth tournament. But it must have friendships and development as its first priority. Competition is good. It's important to play hard, but we must remember that the players are just kids, and that baseball should be fun.

IBAF: What do you think needs to be done to increase the number of female baseball players worldwide?

Justine Siegal: This is a huge question. But in essence, we need to market, both globally and nationally, that baseball for girls and women is a reality. We then need to ensure that there are opportunities to play. National championships, regional tournaments, national teams, women's leagues, and developmental programs for girls are all imperative. We also must develop female umpires, coaches, and leadership.

IBAF: Probably the whole baseball community knows that you threw batting practice to MLB teams. How much did it help in terms of attention for women's baseball? Are more teams interested in your services as BP pitcher?

Justine Siegal: I am much honored to have had the chance to throw batting practice. The amount of media attention was humbling. I wanted to show that women and girls do love baseball and that they want to be a part of it; not just in the seats watching but on the field doing. I am not planning on throwing any more BP but many doors have been opened because of it. When I was throwing BP, it was important to me that the media know that they were not telling my story but our story. We all want to be a part of this great game. And we should all have those opportunities. Dreams are worth following.

IBAF: Tell us a little about Baseball for All. You recently had a meeting with the BFA board. What are the plans of BFA for this year?

Justine Siegal: Baseball For All is a nonprofit in the U.S. that gives meaningful opportunities in baseball, especially for girls. This year, our two main events are the Girls International Baseball Academy and the Christina-Taylor Green Memorial Girls' Baseball Tournament. At the Academy, participants learn baseball skills, the basics of umpiring, and what it takes to follow their dreams. The Academy also has a junior coaching program to encourage and train more female baseball coaches. The memorial tournament will be this October and has 13U and 15U divisions. International players are welcome at all of our events.

IBAF: You coached at the World Children Baseball Fair in Taiwan? How do you liked your experience and how many female players participate?

Justine Siegal: The WCBF is one of the best youth baseball events on the planet. I love it there and so do the kids. My own daughter participated in the WCBF because I knew she just couldn't miss such a wonderful experience. I would say 40% of the participants were girls. Ila Borders was also coaching with me in Chinese Taipei; she pitched in the minors and is an amazing coach. I know Robin Wallace, a former Team USA player is coaching again this year and she's great too. So women and girls definitely have their presence at the WCBF.

IBAF: What are your personal plans as player and coach for 2012?

Justine Siegal: My personal plan is to do all that I can to help the IBAF develop baseball for girls and women. I am also very busy with Baseball For All. For me, it's all about helping girls follow their baseball dreams.

IBAF: Some day you probably have to hang up your active career. Based on your experience, what role would you like to do in baseball coach, scout or executive to help promote the game?

Justine Siegal: Every day, I just try to serve and do my small part to make our baseball community stronger. I will see where that takes me. It's been an incredible journey so far.

IBAF: People probably won't believe it knowing your busy baseball schedule, but you actually have a real job. What do you do and what can you tell us about your research?

Justine Siegal: I am the Director of Sport Partnerships for Sport in Society at Northeastern University. Sport in Society uses the power of sport to help make the world better. My main priority is helping professional athletes finish their college degree through our customized online degree program. I work a lot with minor league baseball players and spent three weeks at Spring Training just talking to different teams, players, coaches, and umpires. I love my job. It combines three of my favorite things: baseball, education, and helping people.

IBAF.org thanks Justine Siegal for the interview.