News
2021-01-12
New KBO commissioner targets South Korean Olympic baseball gold medal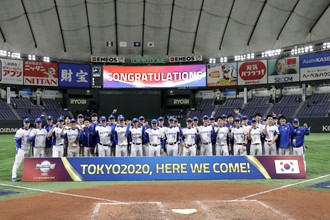 Monday, 11 January 2021:The new Korea Baseball Organization (KBO) commissioner has vowed to work to help South Korea's efforts to win a gold medal in the sport at the Tokyo 2020 Olympics.
Chung Ji-taik identified Olympic success as something that would be beneficial to the KBO, as the new commissioner seeks to increase interest in the professional league both at home and abroad.
"We also want to make our fans proud at the Tokyo Olympics this summer and establish strategies that can help us win the gold medal," Chung said in comments reported by news agency Yonhap.
"A strong performance in international competitions will create a good opportunity to usher in a new golden age for the KBO."
South Korea won the gold medal at Beijing 2008, when baseball last featured at the Olympics.
With Ryu Hyun-jin the winning pitcher, South Korea beat Cuba in the final and went undefeated at the tournament.
The nation is one of four to have qualified for Tokyo 2020 - along with hosts Japan, Mexico and Israel - after finishing second at the 2019 World Baseball Softball Confederation Premier12 tournament.
South Korea beat Cuba in the 2008 Olympic baseball final ©Getty Images
The KBO had factored a break for the Olympics into its 2020 scheduled, and it is anticipated that the same will happen in 2021 to allow the league's best players to play at the postponed Games.
Last year's KBO season was delayed because of the coronavirus pandemic, but reached its climax in November when the NC Dinos won the title.
Conducting a safe competition in 2021 was unsurprisingly top of Chung's agenda.
"We'll further strengthen our quarantine management and response system," Chung said, per Yonhap.
"The safety of our fans and players will be the top priority."