News
2021-01-14
Olympic manager, writer Japan's only new Hall of Famers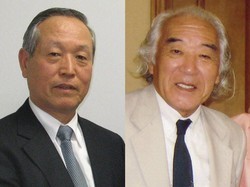 TOKYO (Kyodo) -- Katsuji Kawashima, who managed Japan to an Olympic silver medal at the 1996 Atlanta Olympics, and nonfiction author Kazuo Sayama, who documented baseball in and out of Japan, on Thursday, January 14, 2021 became this year's only new members of the Japanese Baseball Hall of Fame.
The two were selected by the hall's special committee, while no one outside the special committee ballot was elected for the first time since 1998.
To be elected, a candidate in one of the hall's three divisions has to be named by 75 percent of the voters.
For the second straight year, reliever Shingo Takatsu finished just short of selection in the players' division, which considers recently retired players.
Takatsu, whose 286 saves are second all-time in Japan, was runner-up in last year's vote, and led this year's players' vote. He was named on 259 ballots, with 269 the minimum number needed this year for election.
Randy Bass, last year's runner-up in the experts' division for recent coaches and managers, and players out of the game for 21 or more years, led that division this year, but also came up short.
A two-time Triple Crown winner, Bass was the Central League's 1985 MVP, when the bearded iconic slugger helped power the Hanshin Tigers to their only Japan Series championship. He received 95 of the 101 votes needed from experts' division voters.
Kawashima managed a record three winners of Japanese corporate baseball's prestigious Intercity tourney. He led Japan to the silver medal in Atlanta after the national team fell to a 1-3 record in the group stage.
"This is a great honor. I had a lot of help getting here," Kawashima said. "I was honored to bear the weight of the Hinomaru (on my uniform)."
Sayama, who quit teaching in his 40s to write about baseball, said it was in his blood and at his press conference repeated a quote from the late Gene Mauch, a longtime major league manager.
"Baseball and malaria keep coming back," said Sayama, who despite his lack of experience playing now finds himself among the greats of Japan's game.
"There has been no greater surprise in my life. No one in the world is more surprised than me."
If there was a runner-up for surprises on Thursday, it would be that among two star-studded ballots, voters could not reach a consensus that even one former player belonged in the hall this year.
The players' division was crowded with a large number of highly qualified new arrivals. Chief among them was 200-game winning pitcher Masahiro Yamamoto of the Chunichi Dragons, who was named on 68.2 percent of the ballots.
Another two-time MVP, Alex Ramirez, the only imported player to get 2,000 hits in Japan, was third in the players balloting with 65.1 percent.
Two other two-time MVP sluggers joined the ballot this year. Triple Crown-winning first baseman Nobuhiko Matsunaka of the Hawks, and Michihiro Ogasawara, who won an MVP with the Pacific League's Nippon Ham Fighters and another with the CL's Yomiuri Giants, were named on 17 percent and 15.6 percent of the ballots, respectively.
Baseball journalists with 15-plus years of experience are eligible to vote for candidates on the players ballot. The experts ballot is considered by journalists with 30-plus years of experience and living Hall of Famers.